Coach Rod is receiving rave reviews with the fans and media for his bluntness and candidness. And he's not stopping with the fans and the media. Remember the group of former alumni that met the team prior to the Notre Dame and Ohio State games, and all those that petitioned Bill Martin to consider Les Miles? Well, Rodriguez is working on something for them, from John Heuser in the Ann Arbor News Sunday:
Wolverine reunion
In an effort to introduce himself and his staff to former Michigan players, Rodriguez plans to host an event in Ann Arbor in February.
"I want to meet all the guys that played here. I didn't play here, so I didn't know a lot of them. But I know how much pride they have in this place, and I want to meet 'em and talk to 'em, and I want to make sure all the former players feel welcome coming back here, and I think they will once they meet all the former players and staff members."
According to MVictors reader TC, the hockey game appearance went over big-time with the students. Apparently he didn't just show up for an interview and to slap the puck across the ice. Here's TC's recap and take: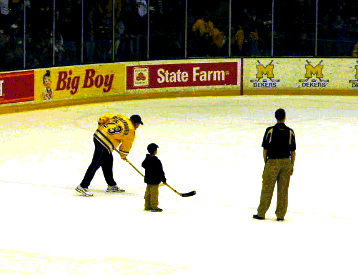 Not only did he do a ceremonial puck drop he also participated in Score-O during the second intermission, he insisted he sit with the students, and he did. The guy has a great attitude, I haven't seen him coach yet but I already know I am a fan. The fact he was willing to NOT ONLY sit with the students but also high five them and mingle during the game shows class. As a student season ticket holder (both hockey and football) it is rewarding to know he appreciates us. Last time Lloyd attended a game he sat in the padded, cushy seats above the Student section and didn't really seem to care or want to be bothered with us.
Coach Mac's Mojo
For those looking for an update on former coach Bill McCartney's quest to get his 1980/1 championship ring back, no update yet. Hopefully soon. Definitely click here to read what happened.
Love Shaq
For those of you who missed the Jack Nicklaus/Shaquille O'Neal bit before the BCS Championship game, someone thankfully put it up on Youtube. I bet you didn't know that LSU stood for Love Shaq University, did you? Dig it: