A couple cool items from the inbox this week. 
Bennie "M"
First up, a correction.  I wrote that Bump Elliott was the first coach to don the block 'M' hat in this post, but reader Dennis Dail corrected me noting that Bennie Oosterbaan actually slipped on the 'M' lid earlier.
The evidence comes via this wire photo in Dennis's collection: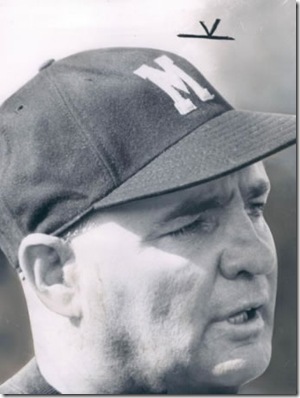 Bennie in Color
Speaking of Oosterbaan, reader Larry sent this over.  As a hobby Larry colorizes old photos and check out Bennie O. in this famous photo before the 1927 Ohio State dedication game: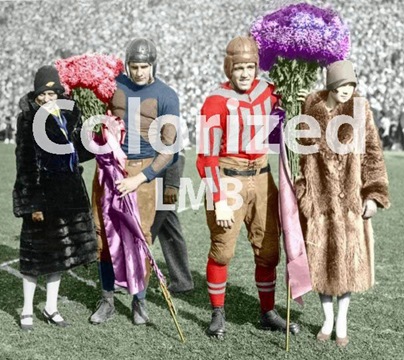 Bennie O. is receiving flowers from Gwen Dew who handled PR for FTD Florists.  On the right is Buckeye captain Ted Meyer and Catherine Tallant of Ohio State.
One more he sent – check out Tom Harmon tearing it up in 1940 in Columbus in color: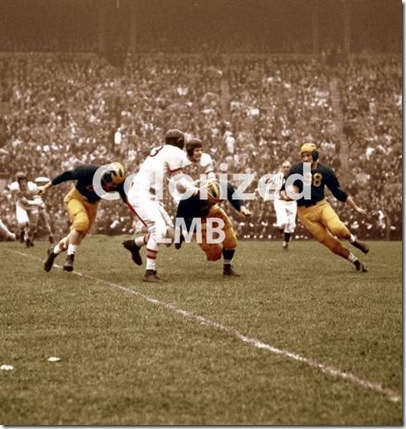 Meyer Morton

Ok, one more with Oosterbaan ties (and please note, I'll have more on this in the future).  Reader David is the son of former Michigan player Don Dugger who won the annual Meyer Morton award in 1954 under coach Oosterbaan.  The award has been given out since 1925 to "the football player who shows the greatest development and most promise as a result of the annual spring practice." 
They used to issue an actual trophy and yes, David owns it today and sent over a photo: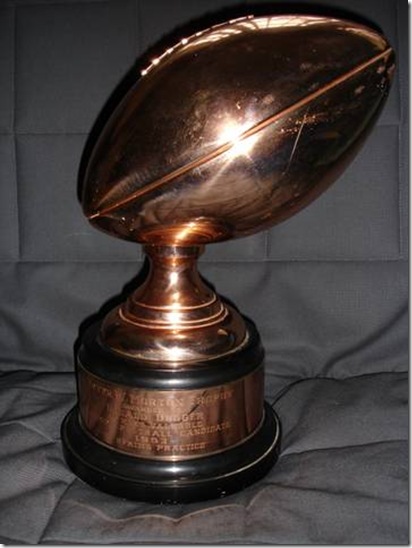 Sweet.  Although I can't spot the confirmation on mgoblue.com, I believe FB John McColgan was the recipient this spring. 
I discussed the MM in more detail here and I shared this photo of the 1932 winner–future President Gerald Ford, holding the trophy: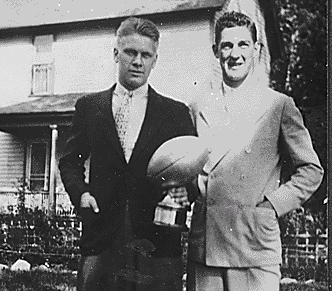 Very cool. 
Thanks David, Dennis and Larry and thanks everyone for the great notes of late.
Bonus: For more Bennie O., check out this republished piece from the Muskegon Chronicle (HT: mgoblog).
Follow MVictors on Twitter