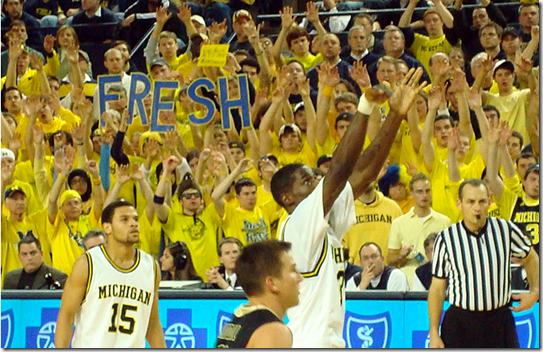 Great to see this story by Jeff Arnold in the Ann Arbor News.  Student basketball season ticket sales jumped through the roof, from less than five hundred last season to over 2,000 for the 2009-10 schedule.  Marty Bodnar and company came up with a great idea; they allowed student to buy the tickets "in conjunction with their season football tickets".
One beef I have with the story is this paragraph:
In addition to bigger numbers, the university will, for the first time, release Maize Rage seating on a first-come, first-served basis, which Bodnar said was the most fair way to allow students into the sections right behind the benches.
It's a great concept but it's definitely not the first time they've done this, in fact, I guess I assumed the student section of GA all the time.   While we didn't call ourselves the 'Maize Rage', as a student ticket holder during the Fab Five era the entire side of the court was completely general admission for the entire season.  We didn't even have a section or designation.  Show up early and wait, and you were in the Blue.  Show up late and you were up top.  That was the deal. 
You didn't have the quite the feel of the Krzyzewski-ville or whatever they call it, but you did have folks hanging out hours before the game, eating the occasional pizza.  For the big games they handed out wrist bands to keep students honest.
Bottom line – it's nice to see this back.