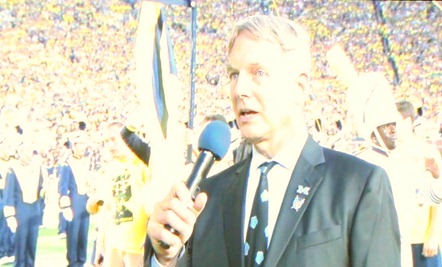 I've had a few requests for the video of Mark Harmon's pregame remarks on the field during the 98 ceremony. I think it might have been posted on All-Access (but I can't find it anymore) and it's on this grainy YouTube clip. Here's what he said:
"My dad was only proud of Michigan. His whole life everything came back to Michigan. On behalf of our family, I'd love to thank Dave Brandon for putting this together and making all of this possible. My dad always talked about Michigan pride, and I get that now, better than ever. Thank you."
And a final plug for the ND/Old 98 commemorative game program – $15 flat includes shipping: Get yours here.
More Notre Dame and Harmon stuff:
Follow MVictors on Twitter