I love that this stuff can carry sports talk radio.  I do.  I can't stand many of the callers but I like hearing people talk passionately about throwback jerseys, mascots, stadium mods and whatever.  Inevitably it invokes some discussion of history and tradition. 
On Mascots:  Make sure you check out James Dickson's excellent piece last week in Michigan Today on the history of mascots, Rich Eisen's take then and now and much more.  It included this excellent shot of the big bad wolf a.k.a. Willy the Wolverine getting a smooch from a mullet-sporting, chest hair-flaunting, wife beater-rocking LSA junior: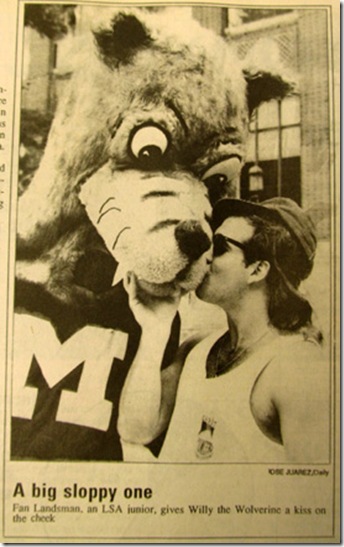 One note – you know about Yost's quest to bring in Biff and Bennie, but don't forget about my boy Intrepidus from the 1930s.
I summarized my take on the mascot situation in one tweet: The Michigan mascot in my head wears fierce armor made from pieces of the stadium halo, and the '93 Final Four banner as a cape.  
Make that happen and I'll sign on.  Someone sketch that out for me and I owe you a beer.
On Phase II: On the talk of completing the south end zone.  Here's my little idea to toss into the hopper.   I'd like the idea to add more seats and all that, but I'd love to see a general admission concourse like they have in Cowboys Stadium.  Fans could enter through a special gate on Stadium for a very reasonable price ($15-$20) and either catch the action in standing room, and/or watch on screens throughout the concourse.  And Mr. Brandon, think of the concesh and the merch—that's a sweet plum!