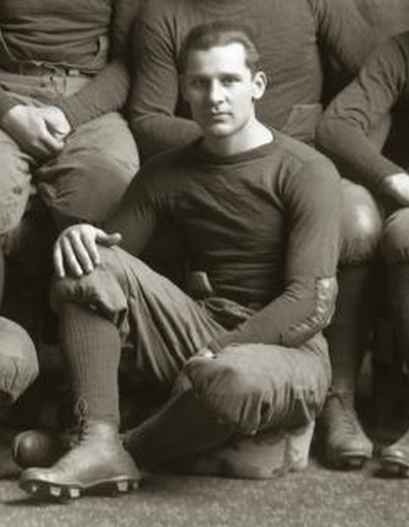 Maully in 1915 team photo | Bentley Library
From reader and memorabilia collector Mark Bomia:
Over the last couple years I acquired the entire John Maulbetsch estate. Maully was an All-American halfback for Michigan in 1914 and member of the College HOF. Some of these items, like most of his scrapbooks, I've donated to Bentley Library.

One of the coolest pieces I still possess is Maully's 1914 All-American ring, given to him by the "Ann Arbor Boys" in December 1914 when he was selected by Walter Camp. It is a gold ring with a .7 carat diamond with a block M on one side and "AA" on the other. The band has a congratulating inscription.

Let me know if this is something your readers may enjoy. I can send pics, if interested.
Naturally I wanted to see the pics – pretty sweet:

Bomia later shared, "The ring is 14k gold with a .7 carat VSI, D color diamond. The inscription on the inner band states 'To Maully Maulbetsch from the Ann Arbor Boys Dec 1914.'  I've also included a signed letter from Yost congratulating Maully on his AA selection.."
Here's the letter from Yost, congratulating him on the All-American selection and urging him to expand his skillset "I am anxious to have you punt and drop kick and practice catching punts when you can" for the upcoming season.  It was sent from the law offices of his brother-in-law Dan McGugin: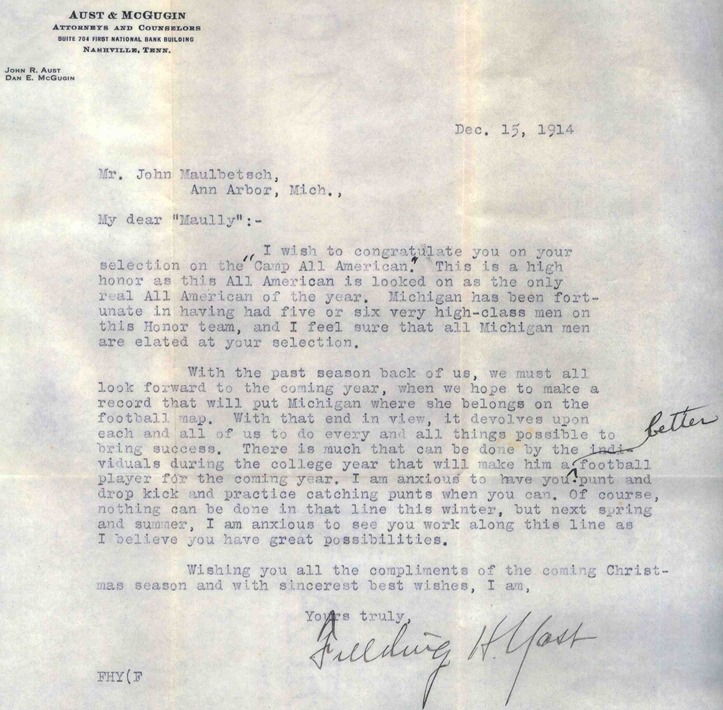 Cheers to Bomia for sending this along !  This is an awesome slice of U-M lore.
Follow MVictors on Twitter