I just picked up the 2009 version of Brian Cook's always awesome Hail To the Victors season preview guide.   Once I make it through the book I may share some thoughts (I busted a gut reading the letter from the editor) but definitely go get a copy.  I found mine at Costco in Brighton this afternoon.
Naturally I found one item to nitpick.  The sections previewing each unit contain these nice little snapshots out of the Michigan record book.   But a couple of them appear to be a tad off inside the defensive section, here's one: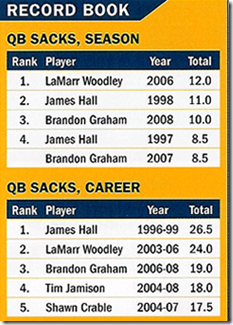 No, I'm not so much of a nerd that I know the defensive record books cold.  I recently interviewed legendary Michigan defensive lineman, captain and All-American Mark Messner and as part of the prep, took a gander at these numbers.  I knew he was well represented in these (and other) categories.
Here's the official season and career leaders in sacks from the 2009 Spring Media guide:
When I met Messner, I offered him the customary dead fish blogger handshake.  He then preceded to nearly rip my arm off.  Needless to say it's probably best to set the record straight on this one.
While thumbing through the guide, one statistic that jumps right off the page: the record for most sacks in a single game.
Messner tallied a remarkable five in the battle with Northwestern in 1987.  I asked him about when we spoke last week.
MVictors: One record that stands out occurred on Halloween in 1987 against Northwestern when you recorded a ridiculous five sacks. What happened?

Messner: "They just kept coming my way, I don't know why [laughs].  I don't know why, but they kept trying to rollout to my side.  One of the biggest things the coaches told us, the guys on the end do not lose containment."

"They just kept rolling to my side and I was fast enough to not let the guy out. It was a fun game.   Northwestern wasn't what they are today back then, and they kept trying.  It worked out for me [laughs]."
Look for more from the interview in days to come.
Update 7/20:   The five sack day is easily the Michigan record (since 1980, of course), but I was wondering where this stacked up in the Big Ten records.  Thanks to Scott Chipman on the league offices for passing along this info (interesting that Travis Davis of Michigan State also tallied a nickel on the same day!):
Most Sacks – Game
6    Tim Jordan, WIS vs. NU    10/19/1985
5(t)    Mark Messner, MICH vs. NU    10/31/1987
Travis Davis, MSU vs. OSU    10/31/1987
Leroy Smith, IOWA vs. OSU    11/2/1991
Mike Thompson, WIS vs. NU    10/9/1993
Simeon Rice, ILL vs. Washington St.    9/1/1994
Tim Burke, WIS vs. IOWA    10/24/1998
Wendell Bryant, WIS vs. PSU    9/22/2001
Alex Lewis, WIS vs. PUR    10/18/2003
And for good measure, looks like Messner ended his career as the Big Ten "all-time" sack leader:
Most Sacks – Career
44.5    Simeon Rice, ILL 1992-95
42    Jared DeVries, IOWA    1995-98
36    Mark Messner, MICH    1985-88
Mike Vrabel, OSU    1993-96
35    Rosevelt Colvin, PUR    1995-98
34.5    Adewale Ogunleye, IND    1996-99
Related:
Messner discusses defensive coordinator position in a blog post on 'Lost Letterman'