After all my dogging of former Ohio State players for selling their precious charm pants (which they receive if they beat Michigan) on eBay, look what just showed up in the memorabilia auctions. It's a 1980 Big Ten and Rose Bowl ring. Often the OSU gold pants auctions hide the name of the original owner; in this case the name is in giant letters on the side of the massive ring: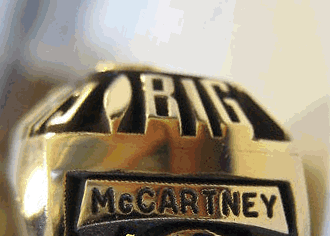 Did this beauty belong to coach Bill McCartney, architect of the McCartney's Monsters defense as Ufer described them, who was an assistant under Bo Schembechler on that great team? There were no other McCartney's on the 1980 squad.
Did Coach McCartney voluntarily sell his ring? Maybe not. The auction specifies that this is a "RARE salesman sample with all proper markings inside the ring". Whew…perhaps the integrity of the Michigan coaching staff is preserved!
McCartney left Michigan a year later to take over the Colorado head coaching position. He led the Buffaloes to a national championship in 1990 and retired following the 1994 season. Sample or real, this is quite a piece of Michigan history will significant ties to the present. Check out some of the names on the 1980 team and staff:
Assistant coaches: Lloyd Carr, Jerry Hanlon, Bill McCartney, Les Miles, Gary Moeller
Players: Mike Trgovac, Butch Woolfolk, Anthony Carter, Bubba Paris, John Wangler, Lawrence Ricks, Stan Edwards, Jim Hermann