Since I've pounded the rugby punt thing to a pulp, a few more notes and observations from Saturday from my cherry seats on the 45 yard line.
"Get Yer Programs, losers" – This guy was schlepping game programs in Spartan Stadium right in the heart of the MSU elite.  Yes, where the likes of Tom Izzos of the world sit, check out his gear: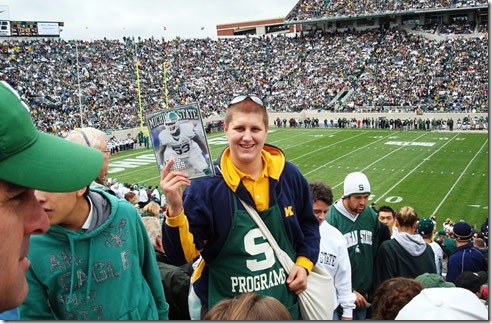 On the 2:  Great discussion on when to go for two in these comeback situation on mgoblog- check it out.   The net?  Percentages yield that Michigan should have looked for the deuce after Stonum's score.  As Brian pointed out on WTKA on Monday, I think coaches know the fans would crucify them if this strategy failed so me and my fellow nerds will need a few brave souls to try this before it becomes a fan-friendly strategy. 
Funny – I see that Dantonio was down 21 to Wisconsin and went for two after their first comeback score but missed it.  Per my MSU insider, he didn't have a logical explanation for this at the presser.  And showing that he probably wasn't aware of the strategy, State kicked an extra point when they cut the lead to 9 on their next, very late, touchdown.
As far as these strategies, the percentages are great (a 44% chance!!) but this isn't baseball.   There are a lot of variables in that decision and in determining the odds given the game situation.  No matter when you think they should have tried for 2 (or not), it was wet, we had a back-up center, we couldn't run the ball for jack, Forcier needed a blow or a transfusion or a walker, and with :02 we had no timeouts to think about it.  On the other side, sure, State's defense was reeling and probably pretty gassed themselves, and maybe the extra point was more risky given the conditions and pressure, maybe Michigan should have kept the momentum going.   I feel strongly Rodriguez did the right thing at the end of the game.  Maybe next time they'll let us text in our choice.
Dry Gear.  The players affectionately refer to longtime equipment manager Jon Falk as "Big Jonny" and the big man saw some action Saturday.  Don't know if fans spotted this but here's Falk busting out a box of new gloves for the team to wear for overtime: