WPW returns after a brief hiatus with a trip back to Ann Arbor in 1965, a few months following Michigan's 34-7 Rose Bowl beatdown of Oregon State. The folks at Esquire Magazine visited Ann Arbor and came to the Sigma Chi house looking for a few good men to model summer clothes. This shot included a few of Bump Elliott's champions strolling in the Arb: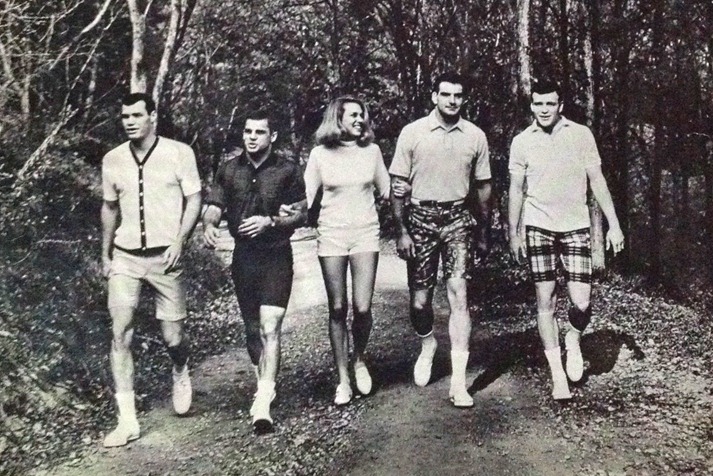 [Left to right above you've got Captain Jim Conley (Sr – End) in his prime, joined by Rick Sygar (Jr. – fullback), the lovely Jane Horsfall (class of '65), Jane's boyfriend Bill Laskey (Sr. – End), and student Norm Legacki.]
I recently caught up with Captain Conley recently who explained how it went down:
MVictors: How did this shoot come about?
Capt. Conley: "It started at the Sigma Chi house. It wasn't about the athletes because, of course, because they can't do that, but they could do it about the student athletes. Since our house was totally filled with athletes, it was pretty easy for them to round up the right amount of guys and put this whole spring fashion thing together. The guy that was doing it apparently was a U-M grad. He came to campus and he went and went to Sigma Chi house and said, 'Hey guys, you want to get some clothes?' What they did was they had all these clothes in there, and if did the shoot you got to keep the clothes."
MVictors: Did it get any attention on campus after the shoot came out?
Capt. Conley: "Heavens, yeah. It was a lot of the fraternity guys were reading that magazine. Most of us had our nose in Playboy, not Esquire because we couldn't afford anything that was sold in Esquire magazine. Anyway, it was funny. It just so happened that there was a good number of athletes in there and, of course, they wanted a good looking woman and we found Janie Horsfall. It was fun. But I don't know why they didn't use some good looking guys! [laughs]"
* * * *
Speaking of Captain Conley, Bump Elliott and the '64 Rose Bowl Champions.. They celebrate their 50th anniversary this season and I just finished my piece for mgoblog's HTTV '14 on their wild season. It's certainly not the kind of thing you'll read anywhere else and I think you'll love it. More to come on these pages as so stay tuned.
Follow MVictors on Twitter