More on the First Night game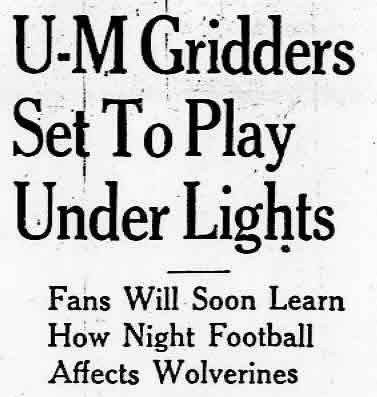 With the night game with Illinois this Saturday this is a good opportunity to follow-up to my post on Michigan's first night game back in 1944 at Marquette. Greg Kinney of the Bentley museum recently sent me a few articles he found on microfilm that provided another photo from the game and a few more tidbits.
In the original post I found a picture from the Marquette yearbook of the game, and it was clear that Michigan was playing with some type of painted ball. The info Kinney sent me shed some light as a reporter noted "The Wolverines have been using a yellow ball in practice sessions this week.." This new game photo provides another shot of the pale pigskin: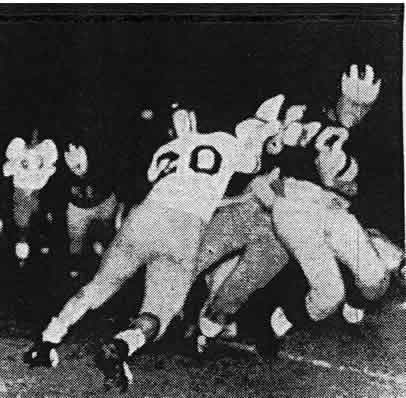 A few other choice quotes from the pre- and post-game stories about the trip to Marquette:
The M coaches on playing at night: "Crisler and his aides would rather have met in an afternoon contest. "But," as one Michigan coach said, "variety is the spice and maybe we'll like night football. Who knows?".
From the post game article, some criticism from the local press: "If Michigan is to successfully open defense of the Big Ten football title…Fritz Crisler's gridders may have to display a better brand of football.."
Wow, origins of a football cliche'?: "..the Wolverines won in spite of many fault chief of which was the worst came of "fumbilitis" to hit a Michigan team in some time."
For more on this, definitely check out the original poston the circumstances around the first night game.