Fight fire with fire, the cure for Sweatervestitis: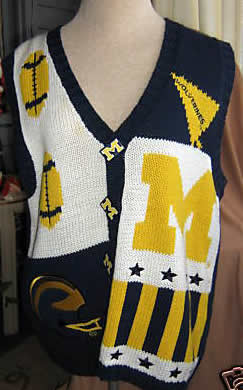 Yikes. Receiving this from your grams would tie a nice bow on a miserable year. Speaking of the holidays, are you 100% guaranteed to receive a Michigan related gift every year?
Loading ...
Related: More stuff from eBay:
* Someone's selling Rich Rodriguez's spread offense playbooks on eBay man! Bollocks. [Hat Tip: Spawn of MZone]
* You can own the website domain, images and content on UMICHFOOTBALL.com for $499, here's the auction (with free shipping!).