Coach Harbaugh recently sent this tweet lauding a few great nicknames in M lore – and as you might guess most of them fall into the Bo era. With some help from Steve "Dr. Sap" Sapardanis and a few of his contacts, a nickname Rosetta Stone of sorts on that tweet: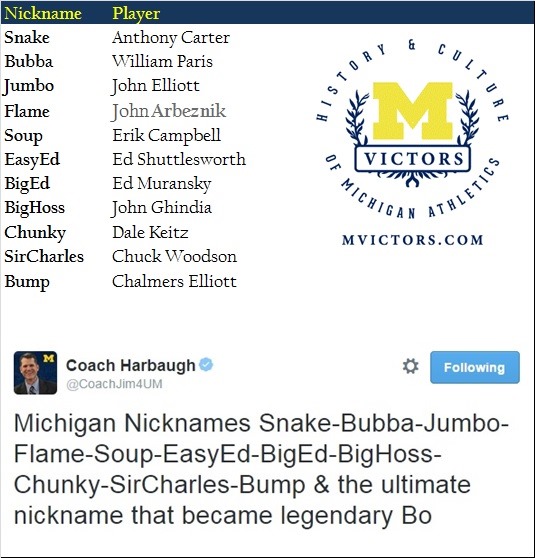 One of the great M Men who was quick to dish out nicknames was of course the great announcer Bob Ufer. Back in 2012 Sap ran down a healthy list of his nicknames and Ufer-isms that seems apropos:
Below are a few of the more famous nicknames from Bob "THE UFE" Ufer:
* Don Lund (Ufer's color commentary man) – Lundo
* Jack Lane (Ufer's stats man) – The Human Computer
* Tom Ufer – Old #3 son
* Bo Schembechler – Bo "George Patton" Schembechler, The General
* Woody Hayes – Dr. Strange Hayes
* Woody Hayes's Buckeyes – Test Tubes
* Earle Bruce – "Darth Vader" Bruce
* Earle Bruce's Buckeyes – Scarlet and Gray Stormtroopers
* Dan Devine – Dreary Old Dan Devine
* Michigan State – Jolly Green Giants
* Dennis Franklin – Dennis "The Menace" Franklin
* Ed Shuttlesworth – "Easy" Ed Shuttlesworth
* Mike Lantry – Super Toe
* Gil Chapman – The Jersey Jet
* Gordon Bell – The Whirling Dervish
* Rob Lytle – The Blonde Bullet, The Fremont Flash
* Rick Leach – Ricky "The Peach" Leach, The Flint Phenom, The Guts and Glue of the Maize and Blue
* Russell Davis – Russell "Hustle" Davis
* Harlan Huckleby – Harlan "Huckleberry Finn" Huckleby
* U-M's 1978 Backfield – Huckleberry Finn deep and Tom Sawyer close
* Thomas Seabron – Old Sea Dog
* Mike Jolly – Butterknife, Bones
* Chris Godfrey – "Manster" (half Man, half Monster)
* Ron Simpkins – Boo Bear
* Curtis Greer – Curtis "Harvey Martin" Greer
* Roosevelt Smith – Roosevelt "Rosey" Smith
* Bryan Virgil – Bryan "Ozzie" Virgil
* Lawrence Reid – Lawrence "LP" Reid
* John Wangler – Johnny "Winging" Wangler
* Mel Owens – The Hulk
* Mike Trgovac – Tiger Vac
* Anthony Carter – Spider, Darter, Sparkplug, the Human Torpedo and of course just, "AC."
* Robert Thompson – Robert "Bubba Baker" Thompson
* Butch Woolfolk – "My name is Butch, don't call me Harold, Woolfolk!"
* Steve Smith – Smitty
Ufer-isms
And because you can't have one without the other, here are a few common but classic phrases frequently uttered by ol' Ufe:
* Referees – $100 an hour men
* Michigan Stadium – The Hole that Yost dug, Crisler paid for and Canham carpeted
* Michigan's Tartan Turf – Canham's Carpet
* Ohio Stadium – The Snakepit
* Ohio Stadium Crowd – 10,000 Michigan fans and 75,000 Truck Drivers
* The Little Brown Jug – The Finest Piece of Football Crockery in America
* Offensive Co-Ordinator Chuck Stobart's Offense – Stobart's Stallions
* Jerry Hanlon's O-Line – Hanlon's Hustlers
* Gary Moeller's Offense – Moeller's Marauders
* Bill McCartney's Defense – McCartney's Monsters
* Michigan Football – "Football is a religion and Saturday is the Holy Day of Obligation"
* The CBs of Michigan Football – "Crisler, Benny, Bump and Bo"
* Ali Haji-Shiekh – "the only Iranian I know who wears cowboy boots"
* Out of the endzone kickoffs – "Aluminum Beer Cans – Non-Returnable"
* "Closer than fuzz on a gnat's eye "
* "Like a bat out of … you know where bats come from"
* "Pickin' 'em up and layin' 'em down"
* Two things you can always count on Ufer saying: football is a game of emotions, and games are always won or lost up front in the trenches.
Follow MVictors on Twitter