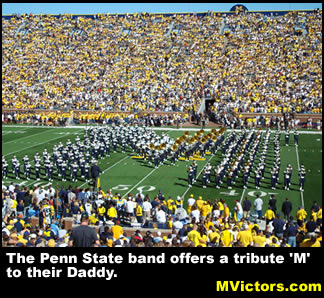 The Bizarro World 2007 season continues as the Blue takes down Penn State again. The same Nittany Lions team that many folks felt had the inside track for the Big Ten title. It was a classic conference battle where the two teams seemed to pick up where they left off the past couple games. Big hits, quarterbacks running for their lives and some tense moments down the stretch.
In the end Penn State couldn't break through Michigan defense and never found a way to stop Mike Hart. Nine times in row Michigan has sent Penn State packing. Now Michigan is right back into the conference picture and will have two weeks to progress as Northwestern and Eastern Michigan should [should!] offer no challenge.
Game highlights via WolverineHistorian:
Semi-stale takes on this battle:
Appalachian Nightmare: Most have heard by now that App State lost today to Wofford. Whatever. I'm more concerned with this little scenario that Jim Carty presented in today's Ann Arbor News:
Let's say Michigan beats Penn State, Penn State beats Ohio State, and Ohio State beats Michigan. All three teams end up with one conference loss. In that scenario, the Lions win a tie-breaker over Michigan and Ohio State because those teams played I-AA opponents. That's right, playing a I-AA team can eliminate you from the Rose Bowl. It's a little-discussed Big Ten rule instituted prior to the 2006 season.
I thought that the folks criticizing Bill Martin for scheduling Appalachian State because it was a no win situation were off-base until now. Win or lose, you're penalized in the Big Ten tie-breaker if you even schedule a team from the lower division? Noooo! Losing a tie-break scenario because we simply scheduled the Mountaineers might not sting as bad as the loss, but it'll leave a mark.
EA Video Simulation Speaking of today's Ann Arbor News, we once again were asked to suffer through a recap of the EA NCAA Football game simulation that pairs Michigan with the day's opponent. For the fourth straight week the simulation's winner was the big loser in the actual game.
They're down, We're kicking A decent size cheer rang from the 109,000+ on hand when they announced the Michigan State v. Notre Dame score, with the Spartans holding a nice lead. The net? Either Michigan fans hate Notre Dame worse than MSU, or more likely, everyone loves to watch a trainwreck especially when Notre Dame is involved. And for the Spartans hats off for six straight wins in South Bend, just an incredible achievement.
We're your Daddy, not your Rival I ran into a young lady wearing a "Puck Fenn State" shirt as we left the stadium. It immediately occured to me that you just don't see a lot of Michigan-based Nittany Lion hater gear. The majority of energy in the hatred department is obviously focused on Ohio State, Michigan State and Notre Dame. It begs the question of where PSU fits in the whole Michigan rivarly picture.
After the Buckeyes, Spartans and Irish, I think I'd have to put Minnesota #4 simply due to the history of the rivarly and of course the Jug. The Lions probably fall in at #5 although some might put Wisconsin in the 4 or 5 slot. I could understand some hesitation to put the Gophers in the fourth slot due to Michigan's dominance over the years.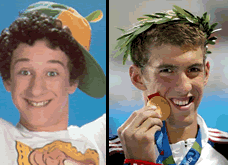 Section 22 Sightings It's been a banner year spotting some big names, whether it be Russell Crowe, Nike chairman Phil Knight or even new hoops coach Beilein.
Today Olympic swimming legend Michael Phelps was seen in the first half donning a Mike Hart jersey and a Detroit Tigers lid. If it wasn't Phelps it was Screech which is still kind of cool.
Homer Brandy During an official's replay review during the game, has any noticed that about 90% of the time Jimmy Brandstatter sees the replay in Michigan's favor? Love the guy but if I'm going to drag a radio into the game I'd like some non-partisan analysis of the replays. And while we're on our radio hosts, is "Crash" really sideline reporter Doug Karsch's nickname, or did they make it up because it kind of sounds like Karsch?
Need a Replay on these There was no official replay of Hart's touchdown but boy, it sure looked like he was down before he put the ball over the goal line. Not sure why it wasn't reviewed. Before I even left the shadow of the stadium I got a word that Manningham broke out 'The Worm' at the end of the game. I defintely need to see the video tape on each of these.
Figurehead I still have no evidence that JoePa is doing anything but cheering and yelling at refs. He wears no headset and seems to always be looking to his assistants for updates on what is going on. While most M fans tend to focus on the play calling of our Wolverines, looking back you have to question some of the strategy of the Lions in the second half. Maybe they should give Paterno back his headset.