They had to win, they knew it, and left no wiggle room.  The blow-out win over Iowa in the first round of the Big Ten tournament has to put Michigan into the NCAA tournament.   Sims and Harris and company took it right to the Hawkeyes, making great decisions with the ball and hitting some really nice shots.  It's the best they've looked all year and it couldn't have come at a better time. 
This also wipes away any sting of the Harris benching for the overtime loss at Iowa.  M fans of the world surrender…and hand the keys back to Beilein.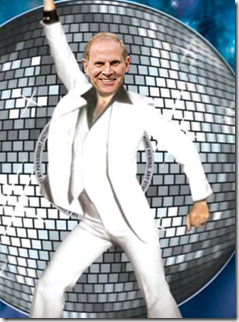 So is it a 10 seed?  If they lose tomorrow to Illinois that seems be the right slot.  If they move on past the Illini who knows, maybe a 9?
If they do get the 10 seed, that'll be familiar ground for Beilein.  In his 4 tournament appearances his average seed is exactly ten, this according to Pete Tiernan's bracketscience.com.  More importantly, Beilein's had a lot of success in that position as he's the top performing NCAA tournament coach against seed expectation (minimum 4 appearances), edging out former Michigan coach Steve Fisher: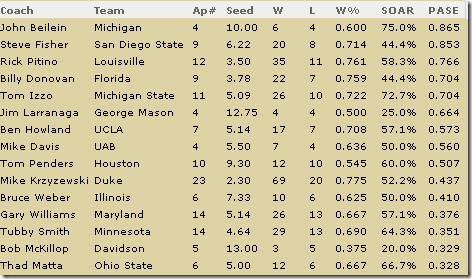 At the time of our interview Michigan was slotted to be around a 9 or 10 seed.  I asked Pete if getting an 8 or 9 seed (and thus having to face a #1 in the next round) would be a bad break.  Per Tiernan:
Tiernan: It's actually better to be a 10 seed than an eight or a nine. I've studied every seed match-up and the nine's hold a 52-44 edge over eight seeds since 1985, when the tournament expanded to 64 teams. In round two, 9 seeds are 3-49 (against #1 seeds). Seven seeds beat 10's by a 60-36 margin, but in the second round, they are just 18-42 against 2 seeds. But look at 10 seeds: they are 18-18  in the second round.   If I were Michigan I'd rather fall to a 10 or even an 11.