Steve "Dr. Sap" Sapardanis is a Schembechler-era savant and once again this season he'll be diligently handing out his postgame helmet stickers after each game. Sap has pored over hours and hours of U-M games over several decades, and in these posts he's able to tie the present to the past.  I encourage you to subscribe to Dr. Sap on YouTube, or follow Sap on Twitter.
OFFENSIVE CHAMPION – It is now official – the Brandon Peters era has begun! Something a lot of fans had been looking forward to, finally happened on Saturday. I gotta admit, as I was watching the Michigan offense wallow in their own mediocrity on TV, I actually fell asleep watching the first quarter. Yes, things were looking that bad. But, much like the crowd, and seemingly the Wolverine offense and coaches, the Maize and Blue spirits were lifted when #18 came into the game. The late Frank Broyles, with his deep southern drawl, may have said it best back in the day to his TV sidekick, Keith Jackson, "You are seeing the making of a quarterbaaack tonight, Keith!" I think we did as well, today. Peters looked poised and threw with confidence.  Did you notice how Peters checked off at the line of scrimmage on Higdon's last TD?  Not sure if it was just a line check/blocking change or a complete audible and play change, but he saw something and Higdon went all the way.  THAT play right there told me he was ready to start and lead this team!!
I've said this before, and I'll say it again – It's totally different playing QB coming off the bench than it is starting the game. Let's enjoy the excitement for a while, but not go overboard. It's just one game. But oh, those were some nice throws!!!
DEFENSIVE CHAMPION – We all know that Maurice Hurst is a beast up front and his quickness is amazing, so…should we start talking about #73 as the best player in country? I know he just ate an under-manned Rutgers O-Line for lunch (Get in my Belly!), but this is not the first or second time Mo Hurst has been THE dominant player on the field. So, should Hurst get an invite to NYC come the first week of December? I think so!
SPECIAL TEAMS CHAMPION – I didn't see much out of DPJ on Saturday returning punts. Quinn Nordin missed a field goal. Not all the kickoffs were (1970's non-returnable) aluminum beer cans. So…Garrett Moores for being spot-on with his holds and placements? Ya – #15 it is! Can't take that part of the kicking game for granted.
COACHING CHAMPION – Sometimes when you finally have your dream car, you're afraid to let the throttle out and see what the machine can do. Before the game, I think the feeling that Coach Jim Harbaugh had on playing Peters at QB could have been best summed up with this photo: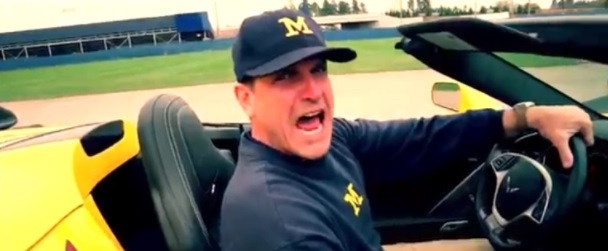 Cautiously excited, but still a little nervous. YIKES!!
But after Peters led the Wolverines to three TD's on his first three possessions, Coach looked a little more like himself:

Nice to see what Peters could finally do in a game situation against an opponent with the game on the line. The throttle wasn't totally let out, but it was opened up a bit and man did the ride feel nice! "Who's got it better than us? Nobody!!"
UNIFORM CHAMPION – Is it me, or does the Helmet Number Sticker on the back of the helmets finally match the font on the Michigan jerseys? If so, I'm all down with that! Never liked it when those didn't match! Kudos, and of course a helmet sticker, to the Michigan Equipment Staff if that is the case!
Follow Dr. Sap on Twitter!
Follow MVictors on Twitter
Week by Week Champions (O = Offense, D = Defense, T = Special Teams, C = Coaching, U = Uniform, E = Editor's pick)
Week 1 vs. Florida:  Ty Issac (O), Devin Bush (D), Quinn Nordin (T), Don Brown, Greg Mattison (C), all-maize unis (U), Camaron Cheeseman (E)
Week 2 vs. Cincinnati:  Ty Issac (O), Tyree Kinnel (D), Grant Perry (T), Greg Mattison (C), refined helmet decals (U).
Week 3 vs. Air Force:  N/A (O), Chase Winovich (D), Quinn Nordin & Donovan Peoples-Jones (T), Jim Harbaugh (C), full on maize and blue uniforms (U)
Week 4 vs. Purdue: John O'Korn (O), Devin Bush (D), Brad Robbins (T), Don Brown (C), white-arm-sleeves-on-shins (U)
Week 5 vs. Michigan State: N/A
Week 6 vs. Indiana: Karan Higdon (O), Maurice Hurst (D) and (T), Tim Drevno (C)
Week 7 vs. Penn State:  N/A
Week 8 vs. Rutgers: