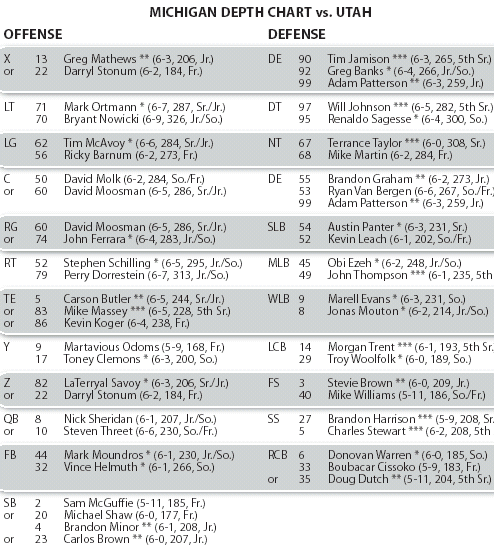 Check it out here. There's a lot of 'OR"s in the offensive listing but if I read it correctly, RR's got McGuffie or Shaw as the starter. David Moosman will start somewhere, but is listed as an 'OR' on both center and right guard. Quarterback as expected is a toss up between Threet and Sheridan, with Sheridan listed first but I don't think that means anything.
Brandon Harrison will return kick-offs, with Donovan Warren handling punts.
Other items from the updated Game Notes:
* Legends Ron Kramer, Dan Dierdorf and Bob Chappuis will be the Alumni captains for the game and will be out there from the coin toss. A great new tradition; thanks to Rich Rod for that.
* Speaking of legends, Lloyd Carr will be recognized at halftime for winning the 2007 Bobby Dodd Coach of the Year award.
* Michigan coaches are 15-2 in the debuts (Bump Elliott lost in 1959 to the Irish, Gary Moeller did the same in 1990).
* This is the second earliest game in school history (tie), the earliest being the epic Pigskin classic vs. Virginia – Scotty Driesbach to Mercury Hayes baby.
* There are players from 21 US states on the Michigan roster.