As mentioned on these pages earlier, Michigan insider co-host Andy Evans is leaving the WTKA 1050AM morning show and moving away from the radio business.
He wasn't the most popular personality on the station.  I know many folks who didn't think much of the 9-10am slot often anchored solo by Evans and it definitely wasn't the same caliber show sans Sam Webb.
This said, I think Evans was getting better and did some commendable things while at WTKA:
* Web services/podcasts.  I could be wrong, but I'm pretty sure Evans was instrumental in getting WTKA to post podcasts on a regular basis.  If he wasn't the driving force, I believe he made a lot of this happen at least in the beginning.  And despite the occasional jab at blogs Evans mentioned this site a couple times on air and even posted a link to MVictors on WTKA.com.  Very appreciated.
* Countdown.  Evans did a wonderful job orchestrating the Countdown to Kick-off show inside the Bud Light Victors lounge.  I watched him first hand facilitate this event at it's no trivial task, with so many guests and experts popping in and out not to mention having to perform over the din of the beer-soaked masses under that tent.  Here's Evans in action, the tall gent third from the right: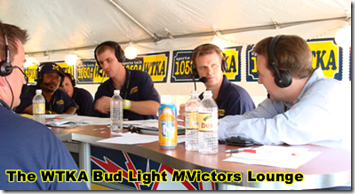 * Red Berenson Show.  Just as with the Countdown show, I thought the pair of John U. Bacon alongside Evans formed a formidable pair hosting the weekly hockey coaches show at The Arena last season.
* Community Support.  Evans earned many points in my book showing much passion in supporting local charities, perhaps most notably the Ann Arbor Adopt-A-Family program last winter.  With the support of the morning show, the organization helped around 70 needy families with gifts for Christmas.  Evans himself adopted a family or two (he probably wasn't pulling Limbaugh/Stern money) and I believe he even did the shopping himself.
All said, he deserves a sincere thanks and best wishes as he moves on.
As far as replacements, I hope they look at someone in the Dave Shand mold.  Perhaps a former athlete, but at least someone with strong opinions who isn't afraid to lob the occasional shot at State Street.
Update 8/10:  AnnArbor.com is reporting that Evan's replacement will be frequent guest host Ira Weintraub.  <— This is an outstanding choice!  Go Blue!