The Brotherhood of Jugsmen—those who have built replicas of the coveted Little Brown Jug— is becoming long and distinguished. By my count we're at 7. And as an aside I know someone else sent me some photos last year but I lost track. If you feel worthy of membership by all means, send me your story and some photos. I know there are a few Minnesota fans out that that are rocking replicas in their boat houses—let's see 'em. Here's the current list:
One of the earliest members of Local 1903 is Mark Foster and over the years he's gradually stepped up his game. Since creating a replica in 2010, Foster built a custom case for the jug and went onto to create subsequent replica jugs. That brings us to reason for this post: Over the past year he decided to take this passion to the next level—building a replica of the chest that has encased the crock since the mid-1930s: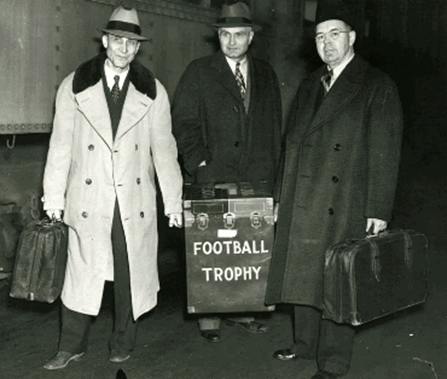 Here is Foster's story in his words and photos:
—————————————————————————————————–
This project all started after I painted my second Little Brown Jug and I was going to make another wooden case to keep it in and my dad said, "No, this time you have to do it right." So we embarked on a LONG journey to completion and it couldn't have turned out any better.
I scheduled a visit to Schembechler Hall on July 18, 2012, as Jon Falk was kind enough to let us come in and take photos of the real trunk that holds the Little Brown Jug, which was more than a treat in itself. I sent him photos of the one I had just painted and told him we were interested in creating a replica trunk, so I assumed he knew we meant business!
In the meantime, my dad went to Steinke-Fenton Fabricators in Jackson, MI to search out someone who would be knowledgeable in working with metal. They said there's only one guy, Dave Freese of Jackson, MI. He's a master working with metal. After the work he did for us with this product, he's by far in my mind a "Magician of Metal" and he joined us in the visit with Falk. My brother's father-in-law, Brian Meredith, a highly skilled wood worker, also joined us as he would play a large part in the project as well. My dad, Dave Freese, Brian Meredith and myself all went to Schembechler Hall for research/photos before starting the project.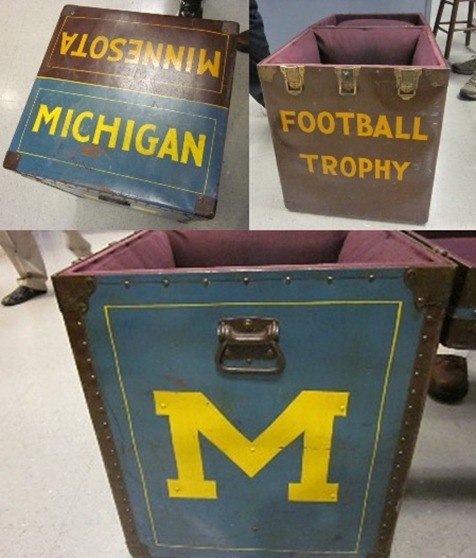 The official Brown Jug case at Schembechler Hall
Once the photos were taken and the research was done, Dave set off to construct the sheet metal for the sides, top and bottom of the box while Brian created the wooden box for the interior along with the interior velvet pillow/padding for the jug to rest in securely. While that was being done, my dad and I began our search for the hardware. Finding these pieces was next to impossible, even to the point of Dave stepping up and creating some identical replica pieces to the ones on the real trunk. Like I said, a magician of metal. Others were found at various online stores and also Caslers Hardware in Jackson, MI came through big time for us. One huge issue is that we could not find much of the hardware in brass. My dad called around to at least 15 shops across the US and only one would do brass plating for us, Acme Brass in Kansas City, MO. Crazy right?
Once the hardware was all accounted for, the metal was complete and the wooden box finished, I set out to find a professional to paint the metal for us. I was confident in my abilities to paint the jug, but painting something like this is well above my skill level. I wanted to keep it local, so I checked around a few places in Chelsea, MI and came across Chelsea Restoration. I emailed them some photos of the box from our visit to Schembechler Hall and they accepted the project. I helped them pick out the colors and left them to it.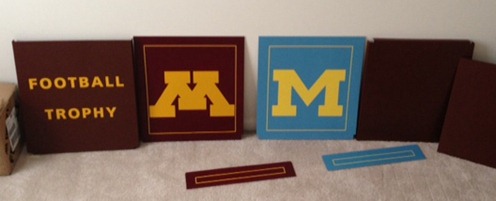 Fantastic job they did. Once they were finished, we took the box and metal sides back to Dave's house to put it all together.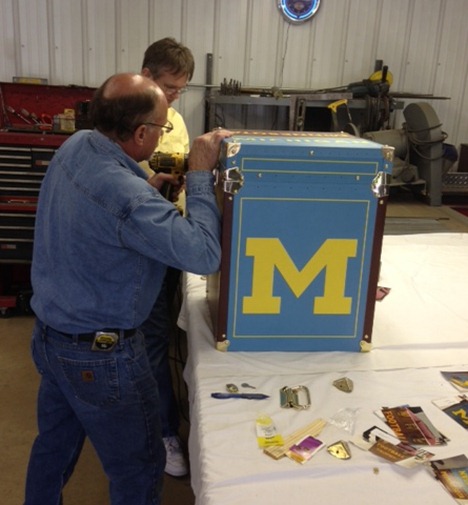 These guys clearly mean business. Guessing that tape measure only leaves his side at weddings and funerals. Love that they have the photos of the original handy to cross check as they move along.
What a great project, we couldn't be more excited to bring this to the Minnesota tailgates with us. In the meantime of the year it took us to make this project, I painted yet another brown jug and that's going to be the one I house in the trunk, lucky number 3 I guess. I can't thank everyone enough for the hard work they put into this project. Everything on the trunk is as identical as we could make it to the real thing, down to the number of brass round tacks bordering the sides. Time flies when you're having fun.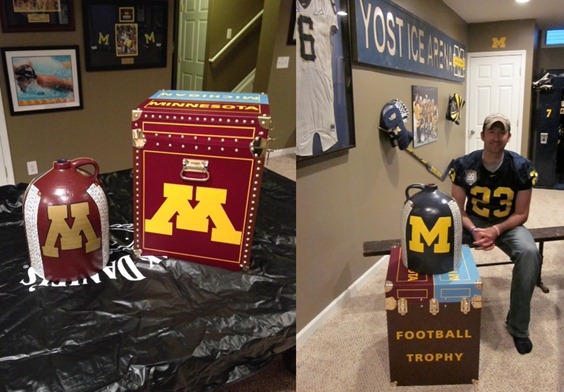 That's Foster on the right in his epic man cave and the fresh 2003 Ohio State game jersey. Love the authentic Schembechler Hall locker in the back, and the Yost signage. True fan.
[Ed. Thanks Mark and congrats. We'll have to do Minnesota "radio row" next year with the full LBJ replica package.]
Get all of your Little Brown Jug Lore here and check out GBW Mag next month for some more Lore.
Follow MVictors on Twitter