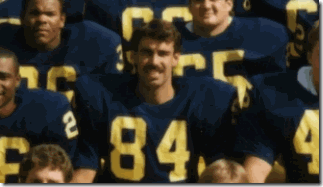 An excellent interview from John U. Bacon on WTKA's Big Show earlier this week.  He interviewed Paul Jokisch, former Michigan two-sport star who was the most recruited athlete in the country in 1981-82. While the discussion got off to a rocky start after Jokisch's cell phone dropped, we all know it's how you finish that counts.
Bacon and Jokisch discussed:
His recruitment in the early 80s.   Jokisch revealed that he probably received a letter from then Michigan hoops head coach Bill Frieder "every day of the week".
His Michigan basketball recruiting class (he only wanted to play hoops at the time) which included five premium players, an 80s version of the Fab 5.  The least heralded of the five was Roy Tarpley.
His switch from Michigan basketball to football midway through his college career and the cultural change between the programs.  He said Frieder provided a "relaxed atmosphere" contrasted with the "intense environment" under Bo Schembechler.
Jokisch was actually preparing to transfer to Tennessee or Notre Dame to play hoops after his sophomore year, and then Bo politely called him in and convinced him to try him out for spring football.   Schembechler's nice guy act worked on Jokisch as he obviously cancelled the plans for the transfer decided to stay and play for Bo.   The next fall Bo promptly tore him a new one.
On the intenseness of the 1985 season (following up on the 6-6 season in 1984), where Michigan finished #2 in the country.  The season included a 27-23 win over Nebraska in the Fiesta Bowl, inspired by a chair-throwing exhibition by from Bo at halftime.
On the groin injury that hampered his final year, including the Rose Bowl, the Senior Bowl and the East- West Shrine game.  It continued to be an issue during the NFL combine and he dropped to the 5th round in the draft.   It sounds like he never fully recovered.
On the week Bo died, Jokisch was supposed to go see him to talk but it was rescheduled.  He was noticeably choked up  talking about it, "I miss him.  We all miss him.  It's tough not having him around".   It sounds like Jokisch harbored some bitterness toward Bo after he left the program, perhaps not understanding back then why he was pushed to play on the bad groin.  Jokisch wanted to tell Bo that over time he gained understanding that Bo did the right thing (by pushing him) and wanted to tell him that.   He didn't get the chance and regrets it. 
You can find the full interview thanks to the WTKA podcasts here: Part I  and Part II.