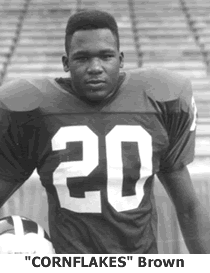 Just learned from classmate Rosey that Corwin "Cornflakes" Brown is leaving the staff of the New York Jets to take the defensive coordinator job at Notre Dame. This hurts. It always hurts when a player or coach becomes affiliated with a rival, but a captain?
Cornflakes served as captain for the 1992 Wolverines, who were Big Ten and Rose Bowl champs. The team was also undefeated but didn't win the national title because three of the games amazingly ended in ties. This team took the tie to a new level. [Michigan trivia buffs, check yourself on 'How many Michigan teams were undefeated in the 1990s?']. When they weren't tying people they were kicking ass. The 1992 Wolverines scored more than 30 points on 8 of 12 games, including putting up 61 on Houston, and tossing a 63-spot on Minnesota.
Brown was popular with the Michigan students when he played. It is confirmed that one group of madcaps even painted C-O-R-N-F-L-A-K-E-S on their pasty bare chests during one game. He'll have his hands full with the Irish, who were smoked by his former school, LSU and USC this past year (and each of these teams put on the brakes late in the game).