Pretty miserable day out there as Michigan was manhandled by the Lions.  I knew it was trouble at 10-7, Clark was making great decisions and always seemed to find a mismatch in our secondary. Hats off to Penn State for giving some of what Michigan has delivered to the Lions much of the past thirteen years—a physical beat down.
The best part of the first four games, beyond the record of course, was that they were a complete validation of Rodriguez.  He used the players he had in creative ways, he was winning with his system, and he showed what could happen with even a glimmer of the right quarterback.   Atop that, his success seemed to validate the idea of bringing in a guy like RR to shake things up in the fading conference.
The next third of the season has obviously raised old questions about what we're dealing with here.  The Michigan State and Iowa losses were understandable.  What you didn't want to see was a clear regression and that's what you got Saturday.  Beaten in every phase by team that was manhandled themselves, at least in the second half, by Iowa.  Injuries, turnovers, and drops are all important but beyond that, if you thought it looked like last season it's because it did.
The upside?  All signs show these guys are still together, still fighting and there's much to be settled in the next few weeks.  Graham was outstanding once again.   It's one game, obviously a huge disappointment but we move on knowing that a) 5-3 is about where we all had this team at this point, and b) there's much to be decided in the remaining four games.
My hope?  The team that straps it up next week in Champaign is the best we've seen all year.  And a notch better for Purdue, then Wisconsin and finally once again to give the Buckeyes a battle.
A few notes:
* How did these guys end up in the first row?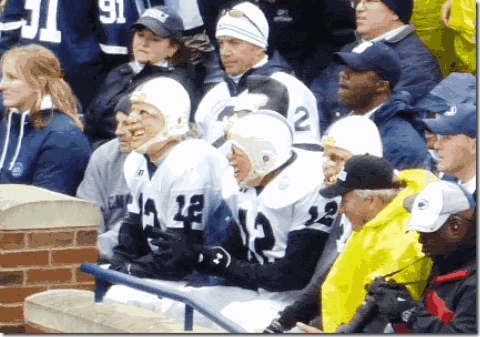 * Once again, well done on the complete disregard of the Maize out by the Michigan fans.  Memo to the athletic department—time to bag it.
* I cracked up when Penn State punted on 4th and 4 on Michigan's 30, which I thought teams stopped doing about five years ago. Of course I didn't even have time to stop chuckling when their punt a) pinned M inside the 10, b) resulted in a safety and then of course c) a touchdown on their first snap after the free kick.  That kind of day.
* I know some folks have wondered about the red wristband Rodriguez wears on the sidelines.   I noticed this as well, and I assume it's just a visual aid for the quarterback to see the play call.  Red's obviously pretty easy to spot amidst the maize & blue, and note Coner and Sheridan donning the rouge as well (with Cone doing the Yost penalty box chant):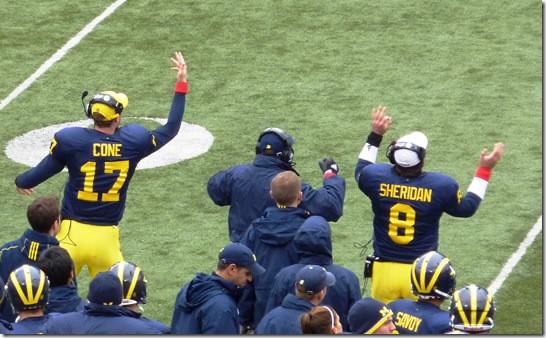 * Hemingway seems snakebit, here after Warren ran into him on the punt.  Sad, because he seems like such a great kid after missing much of last season with frickin' mono. Unbelievable: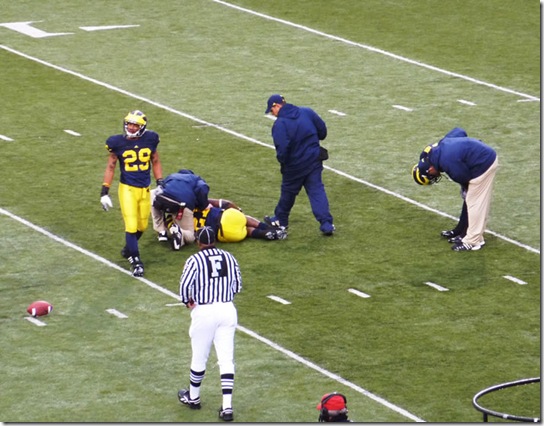 * Flyover, maybe they should drop maize paint on the stadium during Maize-outs: