This photo pretty much summarizes the Tour without TW. It's John Daly at the Buick Open here in Grand Blanc, Michigan. JD is smacking a tee shot off of a full can of beer, placed there by his playing partner: Kid Rock….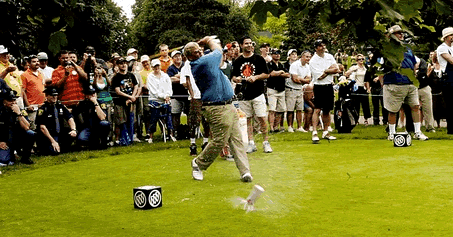 They also had a bearded lady in one of the corporate tents.
Elsewhere at the pro-am, Detroit Lions QB Jon Kitna was toting around a Buckeye golf bag. Apparently he's got a standing bet with his good buddy- if OSU wins the Big Game, Kitna carries the bag. I'm unclear on the consequences if Michigan prevails as I'm not sure it's happened since they started this thing.