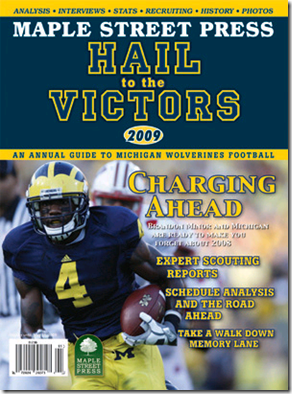 You can pre-order now for $12.99!   Yes, yours truly submitted a piece on the remarkable season of 1909 including some cool photos from that season 100 years ago. 
The abstract available from the Maple Street Press:
It was one of those years for the Wolverines. While many Maize and Blue fans are left shaking their heads, there is reason for hope. Really. Hail to the Victors 2009 goes beyond the usual fluff to deliver hard-hitting analysis on where to look for, and expect, improvement from the Wolverines this fall.

Edited by Brian Cook of the renowned MGoBlog.com, Hail to the Victors 2009 gets Michigan fans ready for the season with in-depth analysis, player and positional group profiles, and looks back to happier times and how those times will return. Just remember: Rich Rodriguez does have a plan and has succeeded before; there are some interesting decisions to be made among some young QBs; and there's always Zoltan Mesko.