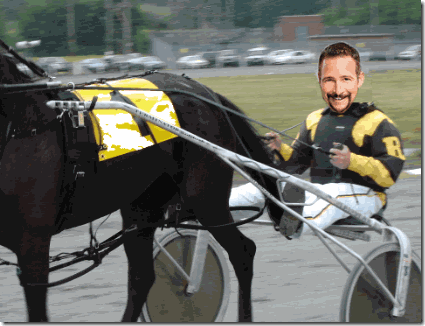 Tomorrow Jim Rome takes his show to town – Motown that is, where he'll broadcast his national show from 12-3 in studio on WDFN 1130AM, then he'll meet fans over at Northville Downs later that afternoon.  Via WDFN's website:
WDFN is inviting all of our listeners to Northville Downs on March 19th at 12p for the start of the first Friday of the Tourney. Drew Sharp + Tom "Killer" Kowalski will be broadcasting LIVE from 3p-6p. Northville Downs will have live harness racing, multiple TV's and most importantly $2 drafts all day long!

It's Friday, and we've got horse racing, college basketball, $2 beers, CCHA tickets, Sharp & Killer, and oh yeah, JIM ROME! So make sure you leave work early and join us March 19th in our very own Jim Rome Jungle at Northville Downs.
Sadly I don't think we'll see Rome take any laps around the Northville track harness-style, or any other way for that matter.  But he will be there along with Detroit's finest 25-45 year-old chugging $2 drafts.