Return trip to Pasadena in '04 yields no win



Congratulations to the Trojans for handily defeating Michigan 28-14 during another incredible trip to the Rose Bowl. USC did what they needed to do – they played sound, aggressive offense and went after Michigan's defensive backs. The Trojan defense forced John Navarre to move around the pocket on big plays and we all know he just doesn't move and throw well.
Going into the game all I wanted Michigan to do was to not defeat themselves as they did at Oregon and Iowa. In hindsight that wasn't enough as USC went out and beat Michigan. That doesn't happen very often to the Blue.
Hats off to Southern Cal and I'm glad they are getting their piece of the national championship. I'd typically rather watch a Mad About You marathon than watch M get beat, but somehow I survived this one.
Pregame & Tailgate
My buddy Arch and I left Venice at around 8:30 and made the trek over to Pasadena. This was my fourth Rose Bowl and second time driving (the first two we took the tour bus). As inevitably happens on the way to the game we ended up monkeying around Pasadena and running up against the Rose parade route. I have to give it to the security and volunteers around the parade. They must of fielded hundreds of questions from confused people trying to find the stadium (including about nine from me and Arch), and each time they politely gave out directions.
When we finally arrived, Arch scored a Costanza-esque once-in-a-lifetime parking spot right up against the curb ensuring an easy lane out of the game. Soon after we parked, Michigan pal & roommate Brian Bolick met up with us, then the Jerry Roberts-led crew in their fresh convertible rolled up and joined us for a few drinks. We tailgated at a few different spots before the game, including with a solid group of M ?AE men that made a big showing.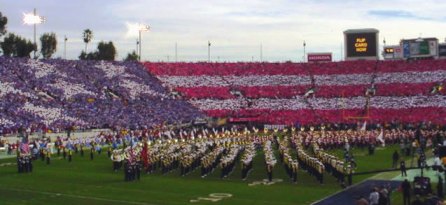 Our seats seats were nice, right in the heart of the M section in the corner of the Michigan end zone. We were given 11×17 cards with instructions describing when to hold them up during the Star Spangled Banner. The instructions on the card and on the big screen referred to a "Section Captain" whose was presumably going to guide us through the confusing task of holding a card over our head and then flipping it once. I searched earnestly but in vain for our Captain so I declared to anyone within ear shot that I was assuming the duties of Section 14 Captain. Thirty seconds later I resigned. After all of this, somehow our section managed to hold up the cards on time. Jokes aside, it looked really cool.
Stealth Flyby
The stealth bomber flying overhead after the anthem was absolutely breathtaking. I've said some form of the word awesome about a geegsillion times in the past, but this scene was definitively awesome.
Other Takes
– Some MENSA candidate came up with an idea for the "waterless urinal" to help out during California's water shortage. It's supposed to trap the pee and the smell beneath a valve. If I never smell a reek that heinous again it will be way too early. Maybe the $140 per ticket price would cover a pallet of water and a air freshener/puck in the john?
– Thumbs up to the USC band because we must assume that they have finally stopped playing that damn song.
– I've never seen shorter beer lines. You could have literally pulled up a stool and bellied up.
– One dude treated a confused stadium with a few belts of "GO STATE" during and after the game.
– Thumbs up to seeing Jill Dehlin and Doc James outside our section at the game. It turned out Doc was our Section Captain but got caught in the line in the men's room.
– Deuce Bigelow Male Gigolo sat about ten rows in front of us. It must be great being a celebrity… as shouts of "DEEUUUUCE!!" rained down on the poor guy the entire game.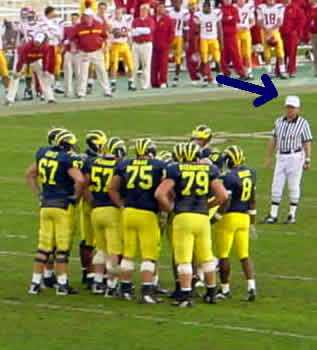 Junior and the Giant Hat
– Concerning the head referee and the gigantic white hat he was wearing.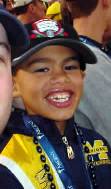 Early in the game I belted out some reference to the ref, his huge hat and the Pillsbury doughboy to the delight of no one except the eight year old kid sitting right behind me. At the end of game the little feller was begging me to yell out some more takes about the ref's hat. To not disappoint the lil' man, I unloaded something about that hat having its own area code or the Goodyear hat or whatever. Junior ate up every word. Then, I swear this is true, the youngster pulls Arch aside laughing hysterically and says "I can see my house from here", as though he were sitting atop the giant hat. I was in stitches.
– Right before they started the national anthem some rummy belted out a hearty "TAKE OFF YOUR HATS YOU COMMIES!", prompting about 14 punks in front of us to scrap the lids off their greasy melons.
– A huge thanks to the guys driving the Michigan semi for allowing me to get a few photos with them before they left to pick up the players' gear after the game.
– Before Junior left the game he looked at me one more time and started laughing. I whispered that if it rained later we could all wait it out under the ref's hat. I left him with one final blast: "Hey Junior, I heard President Bush ordered the ref to take off his hat so the stealth bomber could clear the stadium."