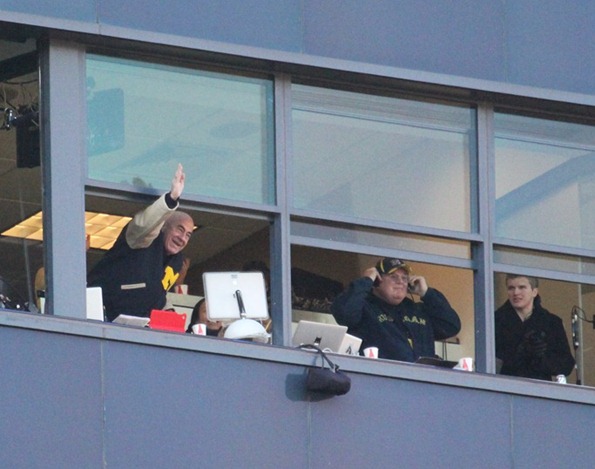 [Ed. Saturday night is of course the final call for longtime play-by-play man Frank Beckmann. I've offered up a couple salutes on these pages around the Ohio State game, but this week Dr. Sap shared a few touching thoughts on Beckmann that I wanted to pass along.]
Guest post by Steve "Dr. Sap" Sapardanis
Before Frank Beckmann took over the reigns from Bob Ufer as the "Voice of Michigan Football," Frankie cut his teeth on the radio broadcasts by doing the locker room interviews.
Take a listen to this one from the Dr. Sap Archives via the original recording made by John Kryk from the 1981 Rose Bowl:
Frank Beckmann and team after 1981 Rose Bowl victory
Play Now
|
Play in Popup
|
Download
Not only does it capture the proverbial and collective Monkey being lifted off the Michigan Football program's back, you get to hear the players' true euphoric joy of finally winning a Rose Bowl for Bo and for Michigan. As a Michigan Fan who grew up with Bob Ufer, I gotta tell ya, I did NOT like Frank's style initially.
There was no horn blast after every TD.
There was no, "5, 4, 3, 2, 1 TOUCHDOWN MEECHEEGAN!!" call.
Ufer's passing marked the end of my innocence for Michigan Football. It would never be the same again. Sure, I was 16 years old at the time, but to me, Ufer WAS Michigan Football. Who was this Beckmann guy, anyways?
Frank's tenure as the Voice of Michigan Football would signal a change in my Michigan fanhood. During Frank's run I grew up as a person and as a fan. Sure, I would continue to follow the maize and blue, but the result of the games would no longer determine my mood for the remainder of the following week.
That stopped happening when I got to my 30s! When Frank hosted his own "SportsWrap" talk show in Detroit, I can remember how nervous I was when I called in the first time. I couldn't believe I was on the radio! Over time I got to appreciate Frank's professionalism and how he created his own broadcast style.
I wasn't a kid anymore and Frank's presentation of Michigan Football seemed right for me as a middle-aged man, husband and now as a father.
A few years ago I received the ultimate compliment from Frank – he was an aspiring rec-league hockey goalie and asked me for a few pointers. I couldn't believe I was showing Frank Beckmann the fundamentals of goaltending – what a thrill!
So, as Frank closes out his tenure as the Voice of Michigan Football this Saturday, I thought I'd return to him the ultimate Michigan fan compliment:
I'm gonna miss ya, Frank! Michigan Football Saturdays in the fall won't be the same without ya.
– Dr. Sap
[Thanks Sap! P.S., I will be on the pregame show with Frank's sideline man Doug Karsch before the game, details to come. I will certainly pass along a few thoughts on Frank. And I'll be doing a live This Week in Michigan Football History with Ira and crew on WTKA 1050AM at around 8 EST. Dig it!]
Follow MVictors on Twitter