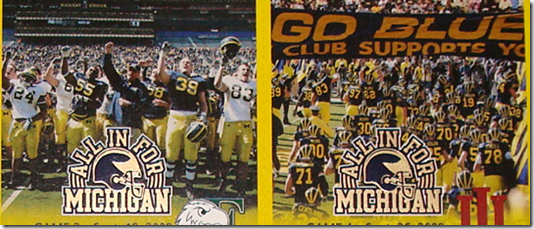 Ah yes, a great day when that yellow envelope arrives…I received my 2009 football season tickets today.  The artwork is holding to the 'All In For Michigan" theme, staying away from game action in favor of sights/sounds and the fans.  Here's how they look:
The run down:
Western Michigan – A photo of Rich Rod, starting down the sideline looking less than thrilled.  Also appears to be fixing his belt or zipping up his brawn.
Notre Dame – A Maize out (hard to ignore as the ticket was dipped in a maize glaze).  To the chagrin of those who hate the tradition key-rattling during big plays, it appears we've got a photo of such an instance here.
Eastern Michigan – The scene after the Spring Game this year when Rich Rod led the team in The Victors at midfield.
Indiana – Just the team running under the Go Blue banner.
Delaware State – A line of female cheerleaders including major biochemistry (I think), although the shot is from behind with maize pom-poms covering their keisters.
Penn State – Another Maize Out, this time with a crowd shot executing a maize out (or as close as M fans come to executing these 'outs').
Purdue – Very nice.  The scene of the Michigan drum major leaping into formation after the band has taken the field.
Ohio State – Once again the players running under the Go Blue banner, this time with all the former players lining the route (Ohio State game 2007?).
I guess this idea is going to have to wait: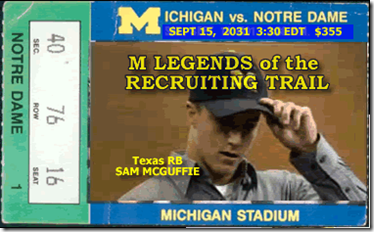 Need 2?  Get your 2009 Season and Individual tickets from StubHub.com