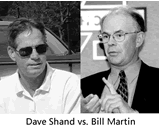 Not much news with former WTKA morning host Dave Shand and his case against Michigan athletic director Bill Martin. Latest I've heard from Shand's legal team is that Martin has filed a motion to dismiss the suit and that this is going to be heard on November 28. As I understand it, Martin is claiming he is immune from the suit because he's a government official. Umm…ok.
I've seen some harsh comments directed at the athletic department lately in light of the Artis Chambers mess. Perhaps Martin & company should have spent more time worrying about tracking eligibility and less time worrying about talk show hosts?
Meanwhile the morning show has been taken over by Gobluewolverine's Sam Webb with sidekick Andy Evans. Their show, "The Michigan Insider with Sam Webb" has a long way to go. They certainly benefit from this being football season and as usual, there's never a dull moment in covering Lloyd Carr's camp. It'll be interesting to see what happens to Webb's show after the regular season and especially after the bowls. Love or hate Shand, I think his show had the ability to draw in the occasional non-Wolverine fanatic, and I'm not sure if Webb and Evans can pull that off.


We've also seen the return of Shand's original show on Sunday mornings- Off The Field. Author John Bacon returns as the straight man and they did a good job filling in Shand's former role with Jamie Morris. Morris doesn't bring the colorful commentary that Shand provided but he adds value as a Michigan legend and as an employee of the athletic department. But I think that's where Morris falls short: He can't really comment on anything controversial (he basically dodged the Artis Chambers situation this past Sunday) for obvious reasons.