Ugh. For the record:
This day in history – I mentioned to the fellas on air in the Victors Lounge that I'm actually getting crap on Twitter for citing history and historical events. Umm…that's what I do and almost all I do. It this site's raison d'être. Needless to say I march on.
So while sadly Saturday was a low point of sorts, November 22 will remain an epic anniversary for Michigan football for decades to come, if for no other reason these two games:
Two Hundred. Holy fandom endurance awards – props to uber fan Mike Khomutin for attending this 200th straight U-M game (yes, that's home AND away). I believe that dates back to 1998. See Sap's Decals for your decal.
Jake No Patch – Some of you noticed that Jake Ryan didn't wear his Bennie Oosterbaan Legends patch during the Northwestern game. I'm efforting some details from media relations on why. To my knowledge this hasn't been addressed by anyone…and if you think this little detail is silly, I'd offer that it's no sillier than anything else people are writing about this team at this moment.
Willie Heston – Yo! My piece short bio piece on Willie Heston appeared in the game program on Saturday (page 4). I'll repost it here soon and note that historian/pal John Kryk helped me out with a few nuggets. A clip:

According to Kryk, Yost considered Heston an exceptional tackler, but because he played behind U-M's dominant line he rarely got the chance to make a play. Strangely enough his first touchdown at Michigan actually came on defense. In the 1901 season opener against Albion, he broke through the line, snatched the ball from the quarterback and dashed the rest of the way for his inaugural visit to the end zone.
Senior day – The seniors were honored on the field before the game as usual, but this year the players received framed jerseys instead of righteous commemorative pigskins that they've been given in recent years: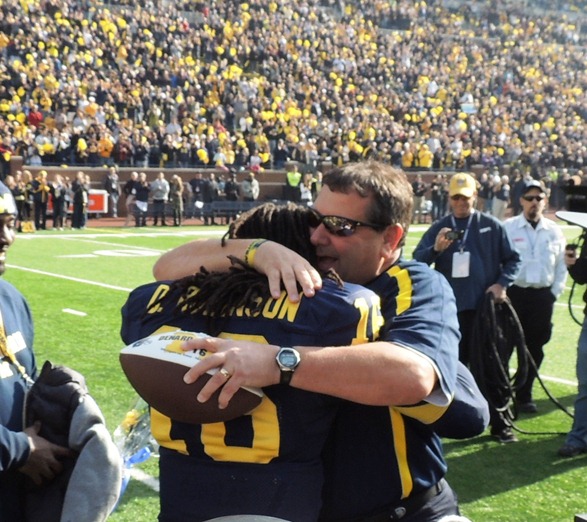 Seven Decade Usher! – Another great tradition on the last home game is honoring the longest tenured stadium ushers. I read this off of the closed captioning on the scoreboard, but I believe they acknowledged one Robert Prieskorn (sp?) for 75 years of service! Holy moly. That means Robert was on duty when Tom Harmon won the Heisman Trophy in 1940.
Wile and Hagerup – My co-Most Improved Players.
Mood Update – Coming up later. Hint:
MMB – Their halftime routine summoned up a comet to blow up the Buckeye Marching Band's dinosaur:
That's all here.
Elsewhere:
We've been waiting almost 3 whole years for Dennis Norfleet to return a kick/punt for a touchdown after almost breaking loose numerous times. So it stands to reason the one and only time he takes one to the house…which probably would've put game away and slammed the door on any Maryland comeback…was called back for a highly questionable block in the back call.
mgoblog – Ace instant react
As far as I know, Brady Hoke hasn't been informed he's fired, but he knows. We all do. With bowl eligibility on the line—unless you're holding out hope for a miracle in Columbus—Hoke's squad couldn't get out of its own way.
Follow MVictors on Twitter