I don't like the saying "playing with house money" because you need to reset expectations when things go well for you.  Things are going well.  We have a pretty good team with a lot of flaws, but we're good enough to play mediocre and beat up a capable team on senior day on the road, and in doing so swept our B1G road schedule.  Well done.  I'll take that but my eyes are on a bigger prize.
While a trip to Indy seems a longshot let's see where the chips fall.  Beat the Buckeyes and I think we get a good look at one of the at-large bowl games or better.  If we go to the Fiesta Bowl I say we take a pilgrimage to Camp David and and grab a few of those fancy chocolates.
On Business.  Handle your business!  Props to Dantonio for out-toughing and out-coaching the Buckeyes down in the snake pit.  You can't count on anyone else to do your dirty work.  And I think this explains a lot: I confirmed that these guys were in charge of protecting Urban Meyer's brain: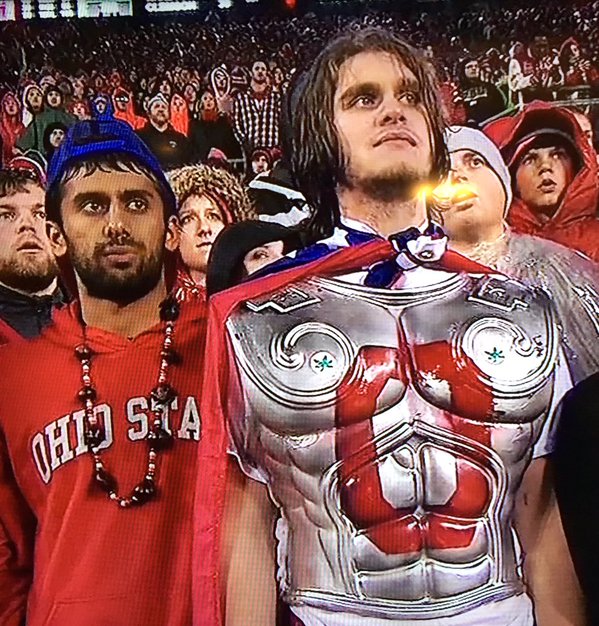 Non-Conformance – Penn State fans can sure do a white out, no doubt about that.  Here's the last meager attempt for a Big House maize out:
I've heard lots of excuses why Michigan doesn't execute maize-outs very well, but I don't think that's a bad thing.  The fact is Michigan fans don't really care to conform and that's ok.   As my man Craig wrote, "one tribe, many clans."
And speaking of the white out, keep in mind you had an all white-crowd cheering for the team donning blue…alongside M fans chanting 'Go Blue' to root on the team clad in all-white.
Uniform Timeline – Stickers are still out of control but methinks they must have pressed pause on guys like Peppers who have them creeping up toward the wings in front.  Bless you if so. We'll know for sure next week.
Mood – 88; great opportunity Saturday to take down the Bucks and as I said, we'll see what happens.
Elsewhere:
Ace:
Michigan won this game due to coaching and finishing drives, and the two were inextricably linked. Both teams had one touchdown from outside the red zone, Michigan's a 26-yard pass from Jake Rudock to Jake Butt before PSU responded with a 25-yard fade to Saeed Blacknail. The Wolverines converted all three* of their red zone chances into touchdowns. Penn State also had three, but ultimately settled for three field goals, stymied by a stout Wolverine defense and their own conservative playcalling.
Go Blue!