A few sights and sounds from Saturday's colossal beating:
Piling On.  The noise that Harbaugh was piling on seemed to swell during the game but I haven't heard much this morning (Sunday).  That said, faking an extra point with nearly THREE FULL QUARTERS left to play is not running up the score – it's football you little babies.  As for the second half, was U-M supposed to kneel every snap?  For much of the final 2 quarters, Peppers was wearing a cashmere robe, eating bon-bons and trying to figure out which hat to wear for his postgame interviews.  I'm calling you babies because that's what you are.
Chicken counters.  I don't care how bad you think Michigan State looked against BYU, if you think we're rolling the buses up there, giving the starters a little work for a couple quarters, packing up Paul and cruising back to Ann Arbor you are crazy.  Even the best Michigan teams get a battle in East Lansing.  And Iowa won't be a picnic either.  And the Buckeyes will have their hands full in Madison next week.  The best thing I can say about Michigan State's struggles is that as it stands, we (yes we) don't need to win up there to win the B1G.
[nitpicking].  I'll quietly note here that I have concerns about Speight's accuracy as we sit at the halfway point.
#1000SSS posted these historical notes – and I'm annoyed:
Michigan's nine rushing touchdowns are tied for the most in program history (1939 vs. Chicago).
OK, are we not counting the Yost era?  We like to count Yost's national championships and conference titles, right?   Well Michigan scored more than nine rushing touchdowns a bunch of times during the Point-A-Minute era, including 22 in 1904 vs. West Virginia.  You could argue that you should draw a line in history based on rule changes (introduction of forward pass, etc, introduction of 6 point touchdown, whatever.).  My preference would be to note clearly where the line is being drawn, then state the "current" record but also acknowledge the historical record.
U-M recorded its second-largest margin of victory since 1920 (78 points) and its third-highest in program history. It is the largest margin of victory in a conference game in U-M history, replacing a 69-point win against Northwestern in 1975.
Michigan's 78-point margin of victory is the largest in Big Ten history, for any conference game, topping Wisconsin's 83-20 victory over Indiana in 2010 and Ohio State's 59-0 victory over Wisconsin in the conference title game in 2014.
No and no.  So this time kind of an odd line is drawn (1920) but the bold notes are still wrong.  When Michigan beat Chicago 85-0 in 1939 the Maroons were in the conference. (They quit football a couple months later but that doesn't change that they were in the conference for the 1939 season.)   And back to the point about Yost above, if you want to cite the all-time mark, in 1902 the Yostmen beat conference foe Iowa 107-0.
Eight Armed CREATURES. Speaking of that 1904 beating of West Virginia and Yost – this is so great:
When the West Virginians returned home the Daily New Dominion of Morgantown interviewed them and reported:

"It was declared that every player on Yost's team weighed eight tons and had an average speed of 96 miles an hour. . . . One player said he was plucked up in the air and thrown over the head of a creature which was at least 100 feet high and had eight pairs of arms. …"
Inserting old clipping for posterity:

Mood Index:  Knocked up to 96.  Though I'm grumpy about the historical notes, it's still great to be a Michigan Wolverine.
Uniforms:  First update to the Uniform Timeline in a few weeks, as the road NIKE whites appear for the first time.  By and large these are the same as last year's model with a tweak to the colors (the maize is the NIKE "Amarillo" as expected.  The maize stripe on the sleeves appears to be slightly thicker this season.
The Bo Store.  The latest UGP/Moe's venture is killing it – with stuff like The Nap, The Nap, The Nap and this Bo retro sideline jacket: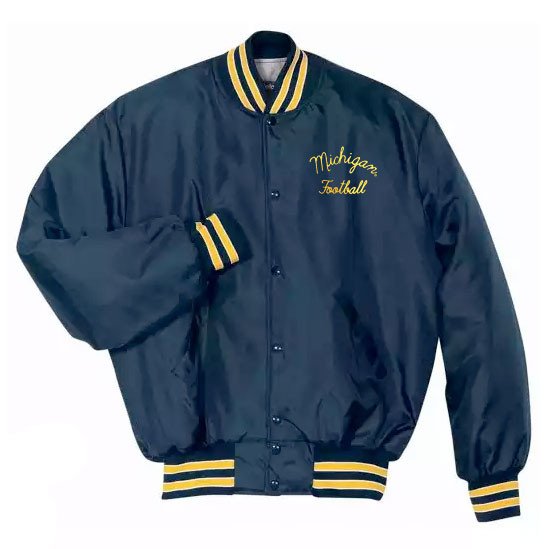 Follow MVictors on Twitter 
Rutgers Related: