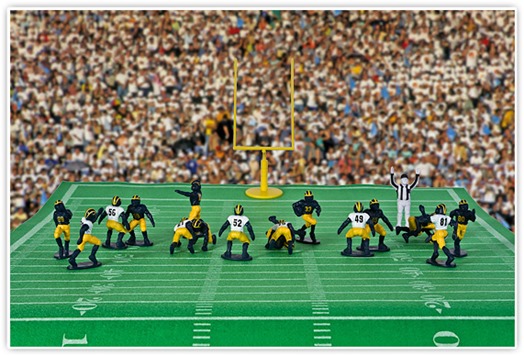 To those who attended, that had a game day feel, didn't it? Now we need to convince Ira, Sam and Steve to prop up the Victors Lounge tent in 2016 and we'll be all set.
As far as the game, sure, the offense was lackluster overall but given they drafted "even" and didn't protect the quarterbacks, I don't think a shoot-out was in the cards. Speaking of QBs, I was impressed with Malzone but I'd go with Morris if the season started tomorrow if you asked me to put the ol' depth chart up on the ol' wall.
A few sights and sounds: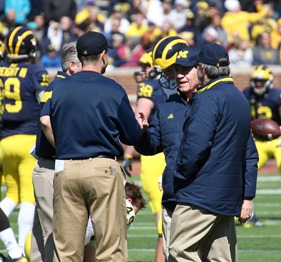 Carr/Mo: It was very cool to have Carr and Moeller as honorary captains and, as we learned later, have them draw a few trick plays.
Band: Another nice touch that gave the day a game day feel was the band, though seated, rolling through the pregame song sequence.
Uniform Update: I won't call it Uniform Timeline worthy (beyond what is already there), but there was no Legends patch on the #48 jersey. My $.02: until they make it official, leave the patch on the jersey.
While there were seemingly no major uniform reveals out there (not even a spring game patch like the last few years) I did love seeing the GO BLUE-tongued shoes on a few of the guys: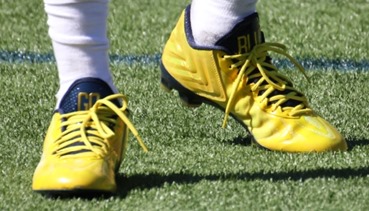 Can't Wait: I got a close up look at Ty Issac before the game and the dude is an absolute house – I can't wait to see this beast carry the pigskin: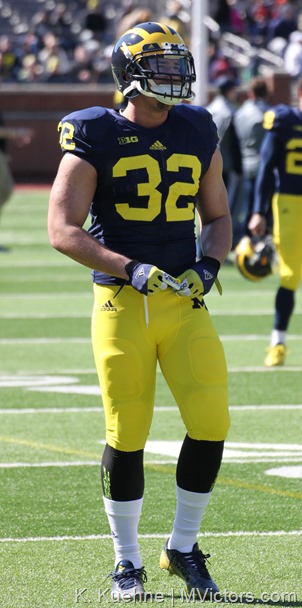 Git-R-done: File under FWIW. The media used to wait around a good 15 minutes or so after they were seated for Brady Hoke and IIRC, RichRod, to start their postgame press conferences. If the Q&A Saturday sounded a bit odd, my man Harbaugh was at the podium before really anyone from the press box made it downstairs and sat down.
Bowl Half Empty: Who cares? But ok I'll bite. Calling the bowl 100,000, the question comes down to whether the bowl was half full. Keeping in mind that everyone is jammed in there for games, I say it was not quite half capacity. I'd call it 45K– but I could be sold on 10K in either direction. But..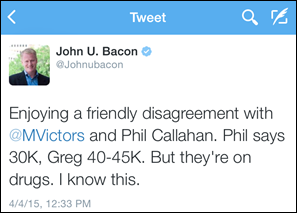 ..then again Bacs (who was back in the press box and not in the thin air of row D) says I'm on crack.
All the game photos here. Follow MVictors on Twitter