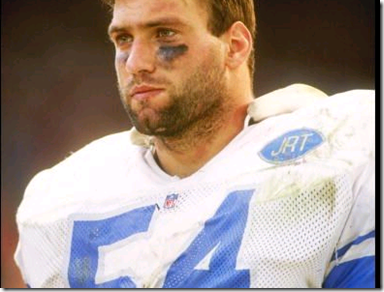 Former Buckeye (hated him!) and Detroit Lion (loved him!) Chris Spielman joined Mitch Albom on the radio in Columbus.  It sounds like Mitch was in town for a speech and did the show at a studio where Spielman does a drive time show with Kirk Herbstreit.
An interesting moment right off the bat, and Mitch recalls that getting a quote out of the Lion linebacker was like pulling teeth, and now marvels that he's on TV and radio.  Spielman took it in stride, admitting, "I probably had an unhealthy obsession with football, now that I think about it."
You may have viewed my headline and figured I was going to rip on the guy for saying that.  No way.  Somewhere inside I think we kind of hope everyone on the field is a little bit obsessed/crazy about football.  Just like you in the stands.  I loved the guy when he played for the Lions because while maybe he didn't say a lot, it was clear he was wild about the game.  Didn't he insist that if injured, he'd never allow anyone to help him off the field?  That he'd crawl or drag himself with one arm if need be?  That's awesome.  I don't know if David Harris was shared Spielman's obsession but he sure played like it.
And this is typical Mitch.  An insightful reflection prompting an notable comment from Spielman.
But then we have this, a demonstration once again that Albom is out of touch.
First Mitch actually asks Spielman this question: "Can a town like this really talk about Ohio State football all year?". Kindly Spielman explains that their research indicates what people want to hear, instead of saying, "Dumb one Mitch".
Then a couple minutes later, Mitch seems surprised when his co-host and Spielman point out that Ohio State had 95,000 fans at the Buckeye spring game.  He then counters with this, "Well Michigan had 50,000 and I think it was pouring rain…"
Thankfully Mitch's weather "postcast" didn't affect the players (no need to the extra long cleats):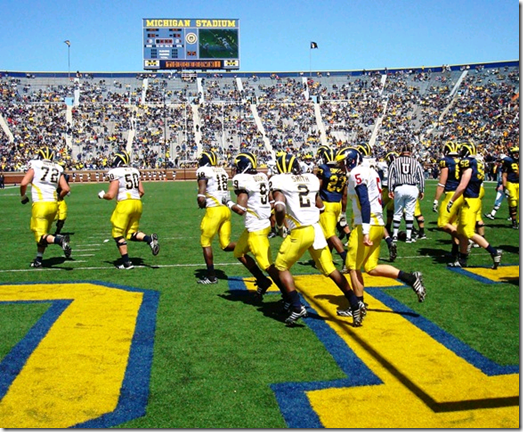 Here's the audio:
Spielman on Mitch
Play Now
|
Play in Popup
|
Download