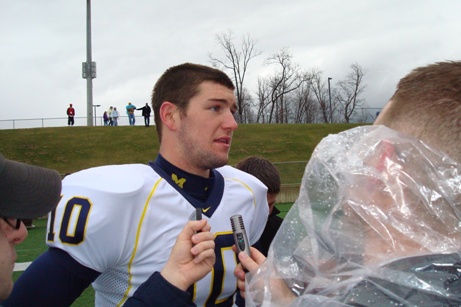 MVictors – From 2008 Spring Game
Incumbent QB Steven Threet is leaving Ann Arbor.   Per a variety of sources, first read on mgoblog.  While I didn't think Threet would be taking to any BCS bowl games, I figured he'd be the guy likely starting in the beginning of next season or at least splitting time.
I assume it is something more than concern about Tate Forcier winning his job.  When he transferred to Michigan from Georgia Tech did he really see himself in a position to get a lot of playing time?   Remember, he came here before Mallett left.   You'd have to assume he'd have every chance to win the starting job next year.
This is a loss for sure.   When he wasn't blowing doors off he played some good (maybe one great) games despite getting beat up quite a bit.