Here are the Decal Champions for Week 4 by Steve "Dr. Sap" Sapardanis:
OFFENSIVE CHAMPION – It took a while for the ground game to get going, but when it finally did, Michigan amassed 326 yards rushing and 107 of them belonged to De'Veon Smith.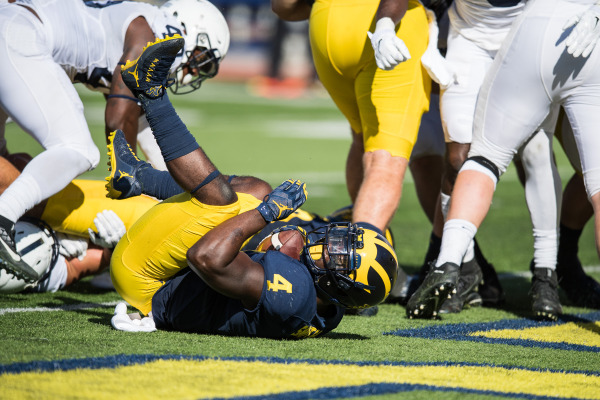 When #4 is healthy and gets it going, he is Michigan's version of Frank Gore and that is exactly the type of bruising, pounding back this Harbaugh Offense desires.  Stay healthy my friend – we have some payback to make good on this year.
DEFENSIVE CHAMPION – Michigan Stadium public address announcer Carl Grapentine said it best today.  Instead of just calling out that the Penn State QB was tackled, he said that, "McSorely was overwhelmed by (insert UM DL name here)." It's hard to believe that Maurice Hurst is listed as a 2nd Team D-Lineman for the Wolverines but he was on his game today. He was in the Penn State backfield most of the first half and recorded 6 tackles, 3 TFL and 1 sack. Overwhelming indeed!
SPECIAL TEAMS CHAMPION – Kenny Allen had a nice bounce-back, or should I say touchback, game this week?  Don't think that is overstating his efforts and importance – just look at what #5 does for our return game.  Nice to see that Allen is back to his old self again – that will be needed the rest of the season.
COACHING CHAMPION – Recognizing how much quality depth Michigan had on the D-Line this year, I told a few of my friends that the UM D-Line was so good, they were going to win a couple of games this year by themselves.  Consider this game against PSU win #1 for Greg Mattison's crew. Pinning back the Nittany Lions on their own goal line to start the game set up the Michigan Offense for great field position on their first possession. Mattison's Maulers kept turning up the pressure from then on and at the end of the first half, PSU had –7 yards rushing.  Game over!
UNIFORM CHAMPION – I saw Jourdan Lewis break out the white laces last week, but because he didn't play, I didn't want to call them out.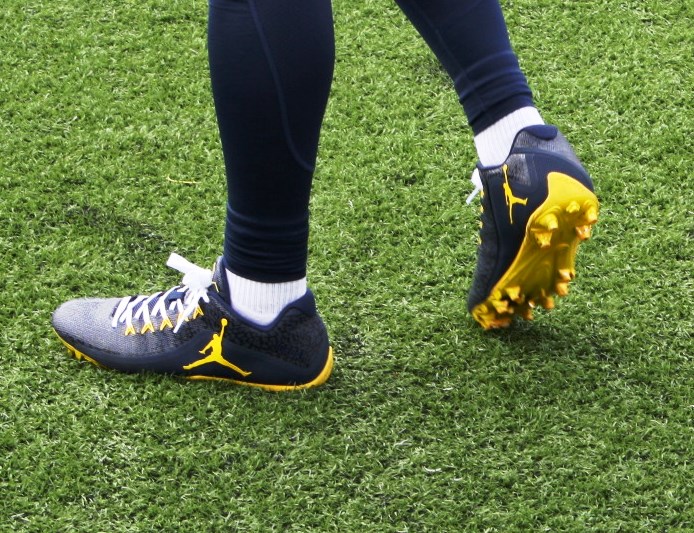 This week, with #26 back on the field, seeing the white laces on his Jordans was akin to seeing helmet stickers on the UM Headgear.  They are timeless, classic and harken back to the days when Bo had everyone wear black shoes with whites laces. Well, everybody except Billy Taylor! Dig 'em!!
Follow Dr. Sap on Twitter!
Follow MVictors on Twitter
Week 1:  Chris Evans (Offense), D: Mike McCray (Defense), Jabrill Peppers (Special Teams), Don Brown (Coach), Michigan helmet (Uniform)
Week 2:  Wilton Speight (O), Jabrill Peppers (O), Tyree Kinnel/Chris Wormley (ST), Chris Partridge (C), Soles of shoes (Uni)
Week 3: Jake Butt (O), Jabrill Peppers (D), Jabrill Peppers (ST), Don Brown (C), Helmet Stickers (Uni)
Week 4: De'Veon Smith (O), Maurice Hurst (D), Kenny Allen (ST), Greg Mattison (C), #26 White Shoe Laces (Uni)