Yes M'am!  It happened.  Thank you to the U-M Library, the U-M Bentley Historical Library, The Michigan Daily, and support from "The Kemp Family Foundation, who finally did what I've been anxious hoping would happen: an searchable digitized archive of the Daily.  Feel free to give it a test run: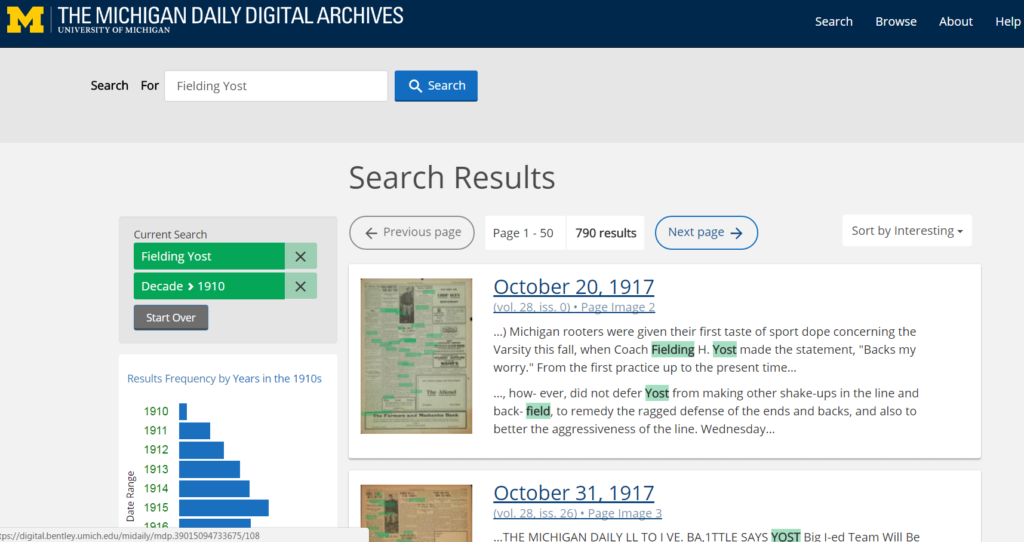 Dude. Sweet.  The search works great, and you can download and save pages and links as you go along.  Well done.  The only drawback?  Like with any text-based scanning software, sometimes the text search is spotty if the quality of the scanned page is in rough shape, as of course can happen as the pages have aged.
Within seconds I was able to search for and find a few never-before-seen nuggets on a few of my favorite topics like The Little Brown Jug and Willis Ward.
Speaking of Ward, you may know a lot about the 1934 Willis Ward controversy that played out before the Georgia Tech game that year, either from this site or on mgoblue.com, or via the kickass and Emmy-nominated documentary Black and Blue.   I don't think I had heard about this, tough.
It turns more than a few folks raised a suspicious eye when, in May 1934 (yes, months before the Georgia Tech game mess heated up) the U-M track team failed to elect Ward captain of the 1935 squad.   Here's one of the letters to the Daily in the May 25, 1934 edition: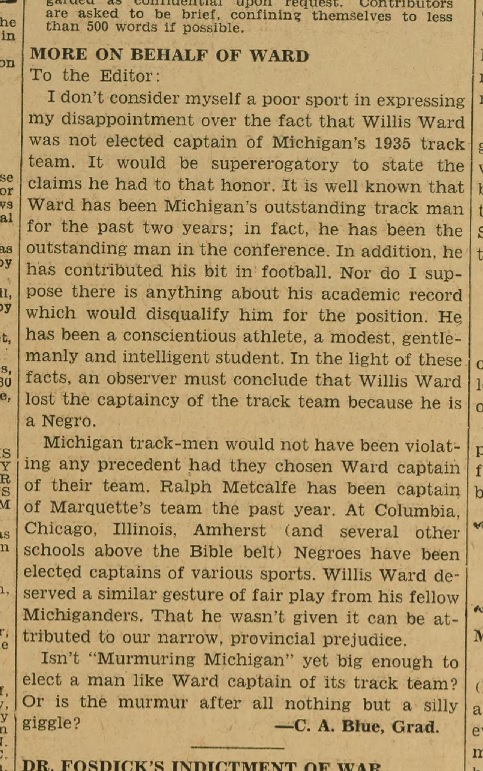 So nicely done, C.A. Blue.
Thanks to a quick search in the new digital archive, I know that "Murmuring Michigan" is a reference to a piece that appeared in the Saturday Evening Post, where the author described a few days on campus in Ann Arbor. As I understand it, he observed a movement of students on campus beginning to rebel against the established norms/biases of the day.  Like racism.
He was right.  In a few months later, the campus exploded before the Georgia Tech game.
Follow MVictors on Twitter