Looks like the Vikings cut Super Drew Henson, perhaps this saga is done. His path took the high school phenom to some of the biggest stages on the American sports lanscape: Brighton High School, The University of Michigan, New York Yankees, Dallas Cowboys and now of course he's leaving Minnesota. The guy garnered constant attention – witness the full page piece on SD that ran in USA Today just two months ago. Other than some solid moments at Michigan, he'll be remembered as a guy who couldn't achieve the impossible expectations that were set for him.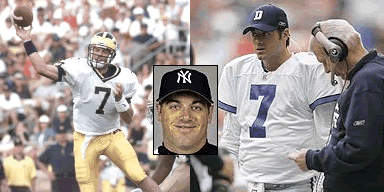 There are still many around Ann Arbor that are bitter at Henson for leaving Michigan to play baseball; there's talk of a promise broken to Lloyd Carr about his commitment to stay. Not me. I don't blame him for taking his shot. To think that he was ever obligated to remain at Michigan is either just not true or none of my business. If Carr or the coaching staff had ill will toward Henson they haven't shown it recently. Last year SD showed up for the Minnesota game where Henne and crew reclaimed the Little Brown Jug.
So what's next for Henson? Perhaps another shot to catch on with an NFL team or maybe some more time in another league. Don't know, but you'd think he'd make for a great sports agent given his experience at the highest levels of football and baseball.