One of my favorite charities and a classy event. Details via former QB/DB Rich Hewlett (coincidentally, he was featured yesterday in WPW!) who shared this note today about the event and how to get involved:
I ask you to join me as I again serve as Chairperson for a special event designed to benefit the Juvenile Diabetes Research Foundation (JDRF) and The University of Michigan Comprehensive Diabetes Center (UMCDC). On May 19, my family will host the 2014 Swing to Cure Diabetes Golf Outing at the University of Michigan Golf Course.
With your participation and support, UMCDC and JDRF will continue their important research that will lead to a cure. Through our first five golf outings we have raised over $285,000!
This year's event will take place at the U of M Golf Course on Monday, May 19, 2014 with a 9:30 AM shotgun start. The agenda for the day is as follows:
8:00 AM — Check in
9:15 AM — Introduction/Welcome Remarks
9:30 AM — Shotgun Start
2:30 PM — Dinner
3:00 PM — Program
3:30 PM — Conclusion
Activities for the day will include a silent and live auction, competitions, prizes, and more. Breakfast, beverages, boxed lunch, and a buffet-style diner also will be provided.
Please join us for the Swing to Cure Diabetes Golf Outing. Click here to download entry applications and sponsorship information. You can also find them on our website, www.swingtocurediabetes.com. Please return completed form(s) to me at:
Rich Hewlett
Varnum, LLP
39500 High Pointe Blvd., Suite 350
Novi, MI 48375
Work 248 / 567-7824
See you there? Here's WTKA's own Ira Weintraub MC'ing last year…and flashing his jazz hands!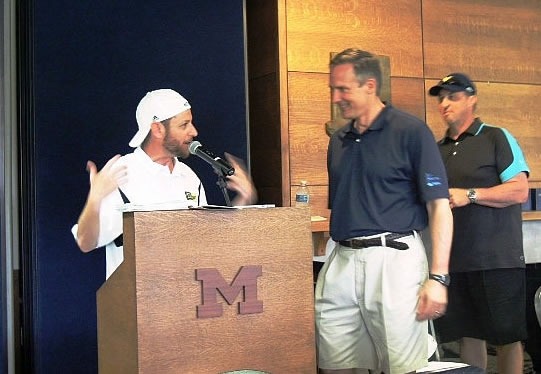 Follow MVictors on Twitter