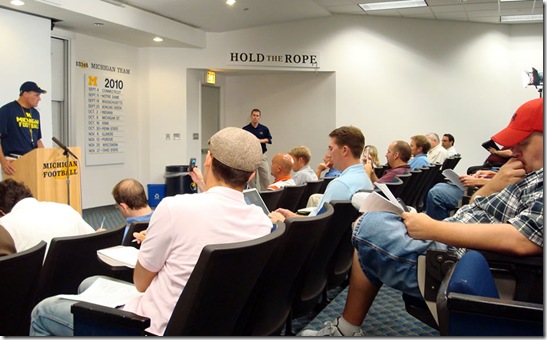 RR: "Have any of you ever kissed a girl?" 
You know you're getting old when driving over, the thought enters your mind that this "late" night press conference will be cutting into your precious 'Antiques Roadshow' time.   Yikes.
Full audio from this evening below. Follow MVictors on Twitter for live updates during press conferences this season.
RR Press Conference
Play Now
|
Play in Popup
|
Download
Key takeaways/notes:
RR called out "a handful of guys" that aren't in shape.  Wouldn't name names. 
He didn't name anyone beyond the "guys upfront" for being in exceptional shape.
Coach Rodriguez wouldn't comment on the WVU allegations, deferred to his previous statements.
First practice in pads is Friday morning "full contact"; two-a-days start Sunday.
All the quarterbacks took the first snap together, haha.  "All three guys are competing."  Said Devin is in "great shape".
On the Woolfolk comments and Tate.  "I'm glad our seniors are taking some ownership and leadership in this team." …  "Tate knows he's a lot of work to do to prove himself, not only on the field but off the field."
On whether Tate is doing the right things to prove himself. "I don't watch summer practices."  Weeee.
All the injured players in the from the spring are back 100% except Will Heiniger. 
Michael Shaw and some other players are still in summer school, into next week.
On the type of O lineman they want, "We like big guys that can move." 
Just had one bad snap today [where we've had problems in the past], "you can tell that's coming from an experience guy."
On the WVU allegations: <cricket, cricket, cricket>
The seniors came up with the concept of having two permanent captains, with game captains during the season.  They players voted on it.  RR will announce to the team tonight.  Media will find out tomorrow.  They'll two more captains for each game "if they're worthy" and two "permanent" captains at the end of the season "if they're worthy."   Love it!  Woolfolk?
105 guys on the roster.
RichRod didn't give a speech or comment on the allegations/pressures/coaching situation to the players.   That's his responsibility; players need to focus on school and football.
He won't know which freshman can contribute until after the first real scrimmage (a couple weeks from now).
Scholarships for walk-ons?  Yes, coming up.  It's a sacred thing to RichRod as this was a big day for him while at WVU when Don Nehlen gave him the news.  You know the story.
–> Best question <–   Did he get a look at the punters today?  Yes.  "Will Hagerup will be what we thought.  He's got a very powerful leg, he's a good athlete.  If he progresses like we think he should be the guy against UConn."
True freshman will have a chance to compete at safety, cornerback (at least 2 deep).
Kelvin Grady is in really good shape.  Tells RR he's "a fulltime football player."
Talked about Facebook/Twitter.  Prefers they don't do it but understands.  Dave Ablauf spoke to them about it.  "Before you hit that send button, it's there and it's there for life."  Won't ban it.  U-M has someone monitoring the players for RichRod. 
Any time spent prepping for Seattle?  No, just coaching. 
Was RichRod aware that Tate wasn't showing up as much for practice.  RR didn't really answer beyond saying he's glad the seniors took that ownership.  "Let's not make too much [of this]."
On Brock Mealer: "I'm as proud of him as any player I've coached."
Post press conference Dave Ablauf of U-M Media Relations confirmed that practice is closed to the media (indefinitely) audio clip.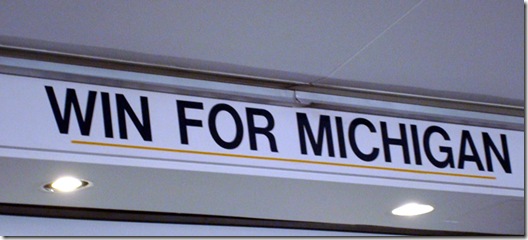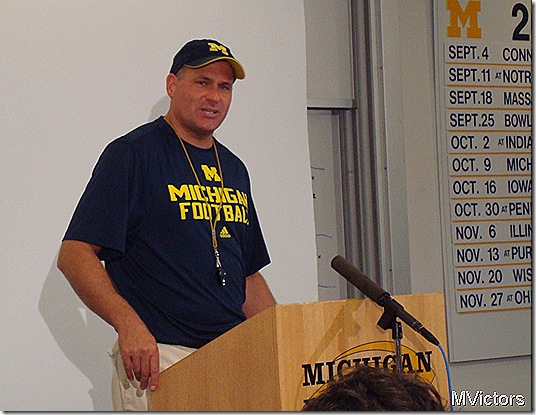 That's Mike Rothstein's (slightly tighter) 'do at the bottom blocking the podium