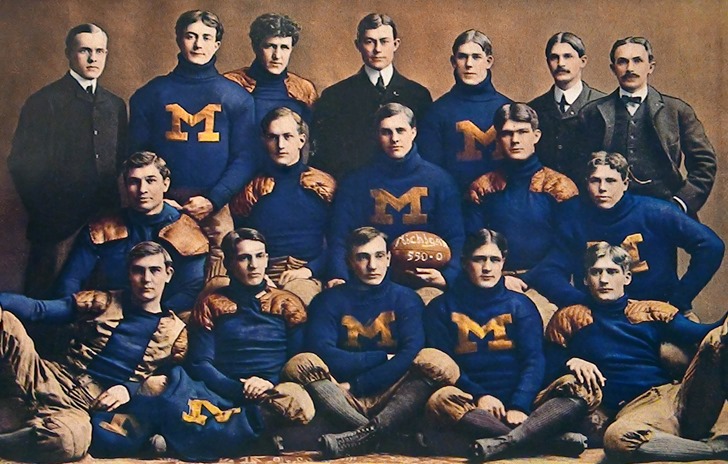 Fantastic!…that's Yost's perfectly perfect 1901 squad – colorized and brilliant.
Friends, fans or mere passers-by of this site. Read this excerpt. Buy Stagg vs. Yost. Visit John Kryk's blog on the book release. This is a masterpiece that will be read and taught through the ages, and Kryk has offered up an exclusive morsel to you – the readers of MVictors. A huge thanks to John and his publisher and the U-M Bentley Historical Library for this exclusive including several of the photos – I know you will love it:
– – – –
Yost's 1901 Wolverines: perfection and roses
Fielding H. Yost's first Michigan team in 1901 smacked Amos Alonzo Stagg's Chicago Maroons by the largest score so far in the 10-year series, 22-0 — the Wolverines' eighth win in eight tries, all by shutout.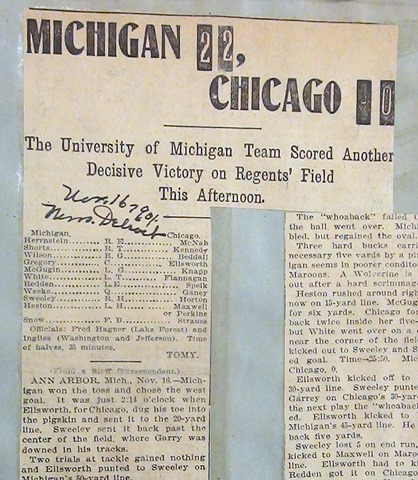 Afterward, Stagg acted as he usually did after a team clobbered him on the field: he counter-punched as hard as he could off it.
Days after the Nov. 16 game, Stagg filed a protest to UM authorities, charging that starting Wolverine left end Curtis Redden was a professional, for evidently pocketing an $11 prize as a youth after having won sprint races at a town sports meet. UM authorities mulled the matter while Redden on the following Saturday played in Michigan's 15-touchdown, 89-0 destruction of Beloit in 30-minute halves — a near repeat of the 128-0 University of Buffalo slaughter.
Upon launching a full investigation the following week, UM decided to hold Redden out of the regular-season finale against Iowa. Why hadn't Stagg protested Redden before Chicago's game in Ann Arbor? Perhaps he hadn't been tipped about Redden in time. More likely, he surmised that his team had no hope of winning in Ann Arbor anyway, and protesting beforehand only would have sent the message to everyone, including his own players, that he was desperate.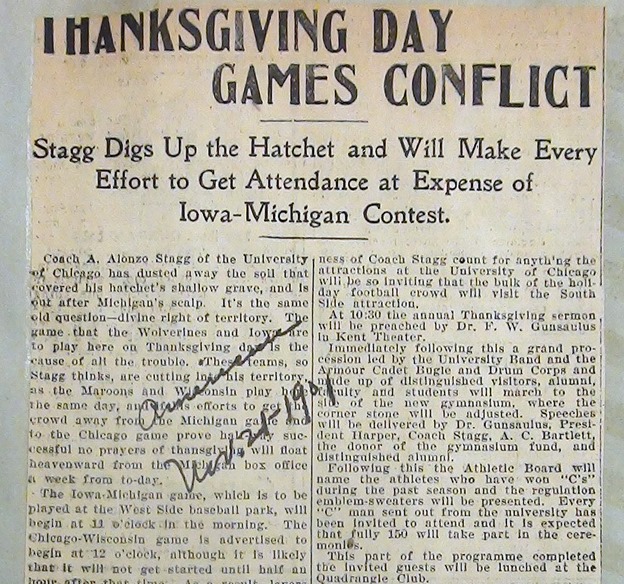 Not that Michigan's success against the Hawkeyes hinged on Redden's presence. The Wolverines improved to 10-0 by crushing the Hawkeyes 50-0 on Thanksgiving Day at West Side baseball park in Chicago, in 35-minute halves. Wolverine fans had hoped their team would put up 49 on the Hawkeyes, to allow Michigan to become the first team in the West to crash through the 500-point barrier in a season. Yost and the boys obliged, surpassing the threshold by one. It was sweet revenge too — both for veteran UM players, who'd taken a thorough 28-5 thumping from Dr. Alden Knipe's Hawkeyes the year before, and for Yost, whose Nebraska Cornhuskers in 1898 had been upset 6-5 by Knipe's Iowa charges.
As for Redden, when the UM Board in Control of Athletics interviewed him he claimed he had never known about the $11 prize money. If it was offered, he presumed he was guilty nonetheless because his father would have pocketed the money. But Redden's father, apparently a lawyer in good standing, later appeared before the UM board and swore that he'd declined the prize money. Signed affidavits from officials of the games supported his claim. UM thus happily rejected Stagg's protest and reinstated Redden, albeit after the regular season.
Stagg also attempted to hurt Michigan — and Iowa — in the ledger. He still despised it when other schools scheduled games "in his backyard," calling it "the height of impertinence and discourtesy" and "vulgar." Michigan and Iowa authorities had long since set an 11 o'clock Thanksgiving Day kickoff for their game, so that a Chicagoan so inclined might attend both big games staged that day in the Windy City — UM-Iowa followed by the mid-afternoon Chicago-Wisconsin tilt. A few days before Thanksgiving, though, Stagg moved the Maroons-Badgers kickoff to noon, killing the doubleheader possibility. UM and UI authorities were livid, but 9,000 to 10,000 still attended their game, and each school cleared $2,500. About 1,000 fewer fans showed up at UC's Marshall Field on the south side to watch Phil King's undefeated Badgers destroy what was left of Stagg's Maroons, 35-0.
Football fans and writers across the West, even Stagg, lobbied for a post-season Michigan-Wisconsin game to settle the Championship of the West. There was no chance the game would take place, however. The Badgers might have welcomed it, even if they publicly stated otherwise. But UM authorities and alumni remained mighty bitter toward Wisconsin.
Michigan's beef with Wisconsin athletic leaders wasn't so much because UW had suddenly backed out of the Michigan/Wisconsin/Illinois boycott of Stagg and his UC sports teams in 1899 (over his unreasonable stance on scheduling home-and-homes only if his Maroons pocketed the majority of the gate every two years), as because UM felt backstabbed in the process. Stagg had split up the triumvirate by convincing UW president Charles R. Van Hise and athletic director John L. Fisher to schedule a post-season game in '99 between their teams to decide Western honors. As further enticement, Stagg dangled two future Thanksgiving Day games at his Marshall Field, in place of Michigan, in 1901 and 1902. The Badgers jumped at it, with the two sides keeping the 1902 arrangement secret from Michigan and the press for more than a year.
Michigan athletic authorities could hardly have thought less of their Wisconsin counterparts as late as January 1902. That's when UM athletic director Charles Baird privately remarked to UM's leading alumnus on football matters, future UM law dean Henry M. Bates, that it seemed "Wisconsin and Chicago have an understanding [and] are determined to put us in a hole," and when Baird's boss — UM Board in Control faculty chairman Albert H. Pattengill — confided to Bates that while it might be "good politics and good money" to play Wisconsin in football, "they are so nasty, selfish & treacherous that I am in no hurry to make up with them. Let them wait a while."
Stagg could not even bait the Wolverines into a December 1901 showdown against the Badgers when he said, "I am absolutely certain that if a post-season game should be played, Wisconsin would beat Michigan."
Instead, the Wolverines looked forward to the team's first West Coast trip over the Holidays. Stagg had been the first coach to take a college team west during the Christmas break — after the 1894 season, to play Stanford both in San Francisco and Los Angeles. Michigan's venture west had been in the works all year, although details constantly changed. At one point Michigan considered a full West Coast swing against three teams: the University of Washington in Seattle, Cal in San Francisco and Stanford in Pasadena. Ultimately only the latter was arranged, as a sporting spectacle on New Year's Day to follow the annual Tournament of Roses parade: later remembered as the first Rose Bowl game. Michigan's opponent would be Stanford — Yost's team the year before — which had defeated Cal again, 12-0, to win the Pacific Coast championship.
The Wolverines' train departed Ann Arbor on December 17 in sub-freezing cold with six inches of snow on the ground. Eight days later, the Michigan party of 19 — 15 players, Yost, Baird, trainer Fitzpatrick and student manager Harry Crafts — arrived in Los Angeles. One local paper listed reasons Stanford should win, including the fact that if UM's star first-year halfback, Willie Heston from San Jose Normal, could win a starting spot then the Wolverines couldn't be that good.
Four days before the game Yost asked Stanford captain Ralph Fisher if the teams could play 25-minute halves, instead of 35, because of the heat. No way, Fisher replied. Those who'd bought tickets were entitled to get their money's worth.
On New Year's Day morning the Wolverines took part in the Tournament of Roses parade, riding in a large carriage. Then they prepared for the afternoon game. The temperature reached the mid 80s — unseasonably hot. Stands had been built to accommodate 2,500 but reported estimates placed the overflow throng anywhere between 6,000 and 8,000.
Stanford could do little on offense, but on defense kept Michigan in check for a while. The game was scoreless through 15 minutes of play. Thereafter, the Wolverines dominated and won going away, 49-0. The heat ultimately did not slow down the Wolverines a bit.
At one point in the second half, Stanford captain Fisher approached Yost on the Michigan sideline to throw in the towel. No siree, Yost replied — the spectators were entitled to get their full money's worth. But then, with eight minutes remaining, Fisher approached his counterpart, tackle Hugh White, and pleaded: "If you are willing, sir, we are ready to quit." White agreed. Ball game.
Motivated by digs in the local press, Heston had continually ripped off big gains, finishing with 170 yards on 18 carries as the Wolverines piled up 527 yards of offense. In his final collegiate game, fullback Neil Snow scored five of Michigan's eight touchdowns — a Rose Bowl record that might never be broken.
Michigan thus finished its first season under Yost with an 11-0-0 record, tied with 9-0-0 Wisconsin for the Big Nine title and mythical Championship of the West. The Wolverines on the season outscored their foes 555 points to zero, the Badgers 317 to 5.
Official, uniform national record-keeping for college football statistics did not begin until 1937 (thanks to Yost, actually), so there is no way to verify an official Big Ten history's claim that the 1901 Wolverines "steamrollered for 8,000 yards" in 11 games. As a historical comparison, only two teams in top-level NCAA history entering the 2014 season had ever passed the 8,000-yard barrier in a season: the 2011 Houston Cougars (with 8,387 in 14 games, for an average of 599) and the 2013 Baylor Bears (with 8,044 in 13 games, for a 619 average). The NCAA record for most total yards per game in a season was set by the Houston Cougars in 1989, with 625. The only other team to eclipse the 600-yards-per-game mark is the 2013 Baylor Bears. If true that the 1901 Wolverines gained as many as 8,000 yards, then even 8,000-flat in 11 games would equate to 727 per game.
As impressive as Yost's hurry-up offense had been, the defense might have been as impregnable as any in the history of the game — and not just because of the uninterrupted string of shutouts. The longest gain Michigan allowed all season was 15 yards, and not once on a scrimmage play did a runner squeeze through the first 10 Wolverines so that deep-safety Ev Sweeney had to make a saving tackle; Sweeney's lone touchdown-saving stop came on Case's return of a blocked Michigan field goal attempt.
Only decades after the fact did the Helms Foundation, in 1941, rate the 1901 Wolverines No. 1 in all of college football. Over the decades, other college football research foundations that awarded national championships retroactively followed suit. Not until the 1910s, though, would any prominent sports writer in the East have so much as considered awarding the mythical national championship to any team outside the East. In 1901 Harvard was everybody's choice. No polls of coaches or writers existed until the late 1930s. The opinions of a few select but hardly unbiased experts — such as Walter Camp and Caspar Whitney — held sway. So infused were Camp, Whitney and others in their Eastern bias, Michigan could have scored 800 points in 1901 and not been given any more consideration for No. 1. Only four years earlier, Camp had yet even to deem a football player from the West worthy of a spot on his annual All-America first team, and no Western man until Stagg in 1904 was allowed on the rules committee run by Camp.
Whitney ranked Michigan third nationally in 1901, behind Harvard and Yale. "In style of game, in running with the ball, and in punting," Whitney wrote of Michigan and Wisconsin, "these two teams stand up well up towards the very head of American football; in handling of kicks and in highly developed team play, however, they are quite a bit inferior to the eastern leaders." That was an odd comment, seeing as Yost claimed Michigan fumbled but one punt all season.
Ann Arborites felt Michigan was indeed the top team in the land, of course. It was quite a change from 12 months earlier, when the Wolverine football program was in abject disarray, with relations between warring factions so bad that a cross-roads meeting of key faculty, alumni, students and others had to be called. Yost had consolidated everybody with what the Chicago Inter Ocean described as his "perfectly organized machine":
"There was not a loose screw — not a bearing that needed oil. It worked smoothly, regularly, brilliantly."
The "point-a-minute" nickname for Yost's teams would not come until 1902. The "machine" analogy was far more popular at the time, and soon would be used so often by sports writers and headline writers, it would become passé and cliché.
But would the machine's designer and chief manufacturer return to Michigan in 1902? Yost had never spent more than one season at any coaching stop, and UM athletic director Baird had signed Yost to only a one-year deal. By Thanksgiving there already had been rumors that Penn out east was anxious to replace the outgoing George Woodruff with Yost.
Baird didn't wait. By the first week of December he locked up Yost contractually for three more seasons — and raised Yost's salary by $450, to $2,750 per year plus expenses, for three to four months' annual work. The average American salary in 1900 was $438.
With Yost and eight starting Wolverines due to return in 1902 — including the great Harrison "Boss" Weeks at quarterback, Heston and all the halfbacks, and Sweeley the remarkable punter — the chances Michigan would be all-powerful again appeared strong. As strong as Stagg's newfound resolve to upgrade his talent so that, some day, he could wipe that wide smile right off the face of the gloating, vagabond coach from the hicks.* * *
A study of the Point-a-Minute years at UM reveals that the majority of top prospects recruited, or raided from smaller universities, by Yost and Baird wound up earning their degrees. It is virtually impossible to compile a definitive list of all players Yost and Baird might have targeted to bring to Ann Arbor because, as everywhere then, new recruits were never officially announced or identified, so on the "scrubs" there might be any number of recruits who'd failed to pan out, mixed with players who'd risen from the class-team ranks of the general student population.
Of the 23 new men Yost and Baird added from 1901 to 1905 who earned their 'M' letters on the varsity, 14 graduated and nine did not. Of the nine, one did not have a chance to graduate: Cecil Gooding, the starting right guard in 1903, who died in 1904.
Most impressively, each of the 13 varsity members on Yost's 1901 Wolverine team wound up earning a degree: 12 at UM (eight in law, three in liberal arts, one in engineering) and one at the Michigan College of Mines, whereto Arthur Redner transferred in 1902 and wherefrom he graduated in 1905.
So the UM team with the perfect record (11-0-0) and perfect defense (0 points allowed all season) also had a perfect graduation rate.
– – – –
Ed. Thank you John et al – Buy Stagg vs. Yost ! Questions for Kryk? Hit me up on this site or visit John Kryk's blog on the book release or hit me on Twitter.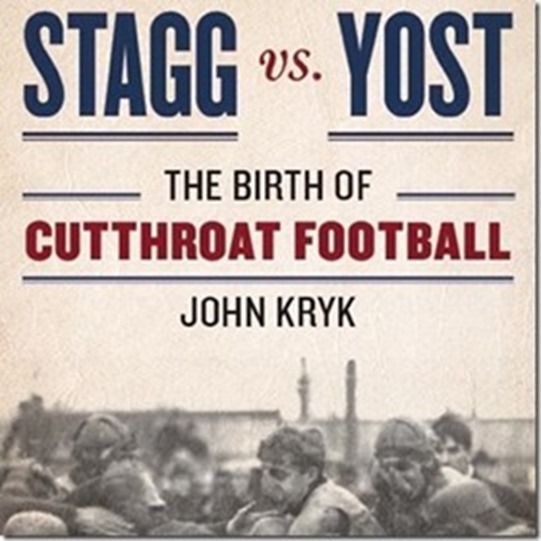 Follow MVictors on Twitter