I've had a few days to think about the newly unveiled 'Michigan Football Legend' program.  Bottom line–I really like it.  My whole thing about the history of U-M is whatever gets people talking about former players, coaches, seasons, or games is a 99% of the time a good thing.  (Glen Rice).   The BTN Icons series, for example, had everyone talking about Harmon and of course this was a big couple weeks for Desmond.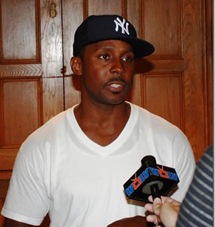 Another thing we learned is that it's clear Michigan will not be retiring any new numbers and on Sunday, Angelique caught up with Dave Brandon who told her this:
Brandon intends to offer the families of the players whose numbers have been retired — Tom Harmon, Bennie Oosterbaan, the Wistert brothers, Ron Kramer and Gerald Ford — to have those numbers re-established but with the "Michigan Football Legend" patch associated with those players.
I'm hoping the families of the guys who have already have had their numbers retired agree to join this program.  The fact is no one really talks a whole lot about Kramer, the Wisterts and even Oosterbaan (unless of course we're talking about retiring a jersey).
And I'm with Brian, it'd be cool to see someone wearing #98 on the field and have a tricked out Harmon locker.  Someone get Mr. Shoop on the phone to clear this STAT.  Wouldn't it be nice to see these guys honored again in front of today's fans?
This is a great opportunity to do a few things:
Bob Chappuis could be honored while he's still with us.  That would be so cool.
I think it's unfortunate that the museum in Schembechler Hall isn't frequently open to the public, but it's very well done.  I hope they enhance it with this Legends area and make it more accessible to the fans.
This is great way honor Benny Friedman, something that's long overdue.
A couple questions remain:
Funny, after all this we still have an issue with the #1 jersey.  Is it still a Braylon/Carter scholarship thing?  Do we need to pick one person (Carter) to be the Michigan Legend for the #1?
Is there some way to honor the Willie Hestons of the world, who did great things before they installed jersey numbers players?
Here's a silly thought but I offer it up nonetheless.  So let's say a guy heading into his junior or senior season is on the Heisman shortlist.  Does he accept one of the Legend jerseys (if offered) or stick with his existing number, hoping that one day he too will be honored alongside the Desmonds, Woodsons and Friedmans of Michigan history?   What if C-A-T spelled dog?
Experts?
As an aside, while as mentioned I really like this program and give the AD credit, I've gotta question who Brandon considers Michigan football program "experts":
"In making the decision in how to do this going forward, I have consulted with people who follow the program and consider themselves experts. I would simply say, 'Name the numbers and the players that have been retired.' They may name one or two, but they can't name all five.
Say what?