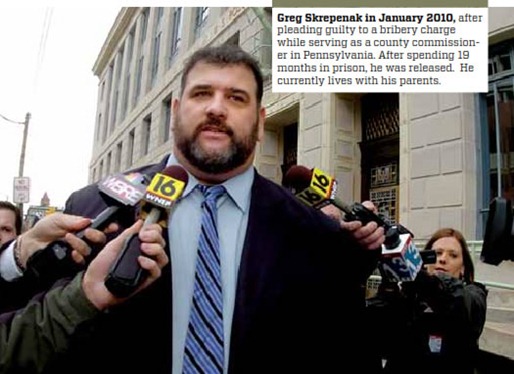 Via LSA Magazine
You may know the story of former manster OL Greg Skrepenak, a two-time All-American and captain of Gary Moeller's 1991 squad.  He was sentenced in 2010 to serve 24 months in a federal prison after he pled guilty on a corruption charge while serving as a County Commissioner in Pennsylvania.
He was freed in June.  In the mail today I got my latest copy of LSA Magazine.  It's very well done so I usually thumb through it.  In the back I spotted Skrepenak's photo along with this piece he composed titled, Adding It Up.   A snippet:
I am at a loss as to how to tally the shame I feel about letting my family and former U-M coaches and teammates down by committing a corruption felony.  I played under the great Bo Schembechler, who placed integrity above everything.  To have tarnished what he stood for will haunt me forever.
The last paragraph:
There is no number left except perhaps zero. I am starting over. I am humbled and sorry and I did all this to myself. But zero is not a negative. Zero is where I start from here. Zero is, after all, what the scoreboard reads before the game begins.
You can read the whole piece here.   Powerful stuff.  Props to Skrep for putting this out there.
Follow MVictors on Twitter