Given the buzz around the prospect of your beloved Wolverines opening the season in a maize alternate uniform, you should know it's not the first time.  Readers of this site are aware of the canary disaster of 1928, but here's a refresher:
I first read about all this thanks a tip from Bruce Madej, the legendary U-M SID, who reviewed the Uniform Timeline sent over a ditty from his book, Champions of the West.  Within a section of the book talking about Fritz Crisler and the launch of the winged helmet at Michigan in 1938, it gets into a little uniform history— including this spicy meatball:
The only change in the typical blue uniforms before 1949 came in 1928.  As Michigan planned to play Navy in Baltimore, the Midshipmen refused to wear any other color than their traditional blue.  Therefore, Michigan came out in bright yellow jerseys with blue numerals.  The team was said to look like canaries, and the uniforms were put away after the 6-6 tie.
Fast forward to today, and we can see that Navy did indeed have a uniform that resembled the gear the Wolverines wore back in the 1920s.  (But note, FWIW, I think that happened a lot back then).   Anyway – Via eBay, here's a look at an advertisement that was created for that very November 10, 1928 game, in the form of a pop-up Navy footballer.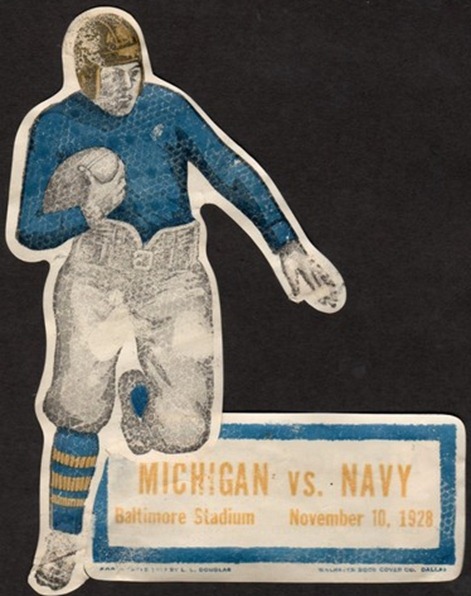 The only major difference was the Midshipmen's striped socks so they wanted to do something.  Here's a game photo from the '29 Michiganensian, and while it's gray and grainy, you can see that one squad is wearing the lighter color: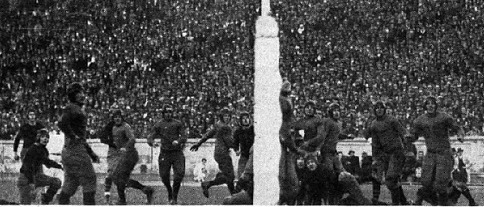 [Update via Reader Jumpman – a colorized version of the canaries: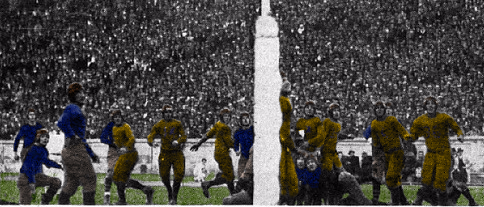 Now, for the serious historians, you should know that Michigan was trying to figure out how to deal with this conflict of color vs. Navy before 1928.  In fact in 1927, the year the freshly minted Michigan Stadium opened for business, your Wolverines wore maize helmets (or headgears as it were) at the game in Ann Arbor [via the Michigan Daily archives]: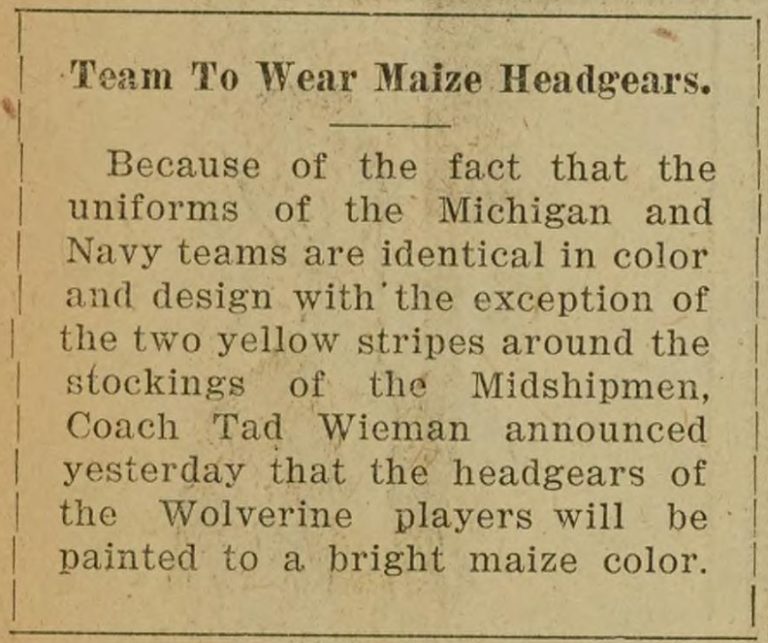 Of course this is still more than a decade before the winged helmets appeared, but it is significant nonetheless.
1928 wasn't the only time Michigan had a challenge with the fairer of our two school colors.  Just a few years ago those high and bright maize numerals on Outback Bowl jerseys became invisible, like Wonder Woman's jet, when viewed in the Florida sun from beyond 55 yards: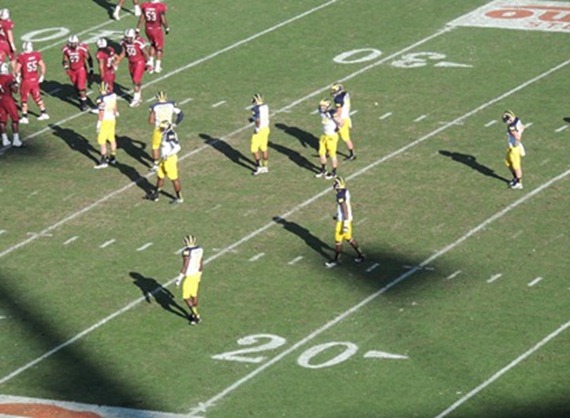 Related: Uniform timeline (updated)
Follow MVictors on Twitter