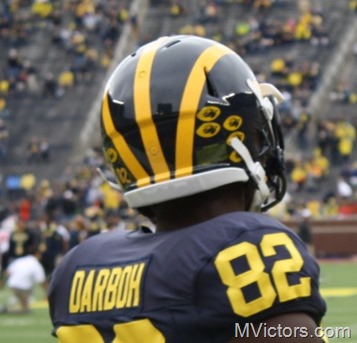 So Amara Darboh had 9 helmet stickers after Utah, Jake Butt 8 and a handful of others (Peppers, Rudock) had seven. Assuming the stickers are dealt out after games, we've presumably got a few guys with at least 15 helmet stickers on their lids following Oregon State. Now, I've heard some argue that these assumptions are wrong – that many of the decals to date were earned in practice (including camp) and therefore it's not a straight line ratio from now to the end of the season. But if the stickers are tied to game performance, and the criteria for getting stickers in a game stays consistent throughout the season – things will get sticky soon. The skinny:
We already know they stickers are the same size as the 1985-1994 version. As discussed here, the standard for decals likely goes to Mike Hammerstein, the mid-80s standout defensive tackle. He was the team MVP in 1985 and his helmet showed it. The big man was honored with 47 decals entering the bowl game, assuming he didn't leave a couple on Keith Byars' arse: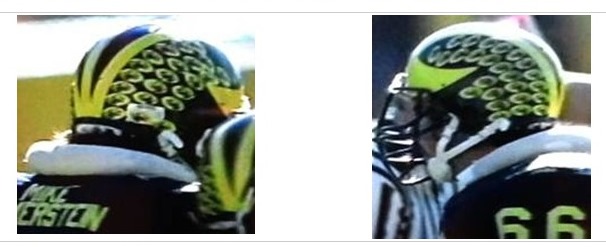 Assuming we're not touching the area on or inside the wings (I will fight you, Jake Rudock!), at a glance it looks like we've got max capacity at 60. Maybe we could get 62 on Wormley.
Fast forward to 2015. A guy fifteen dekes after week 2 is projected to have 90 after playing the Buckeyes and entering the BCS playoffs bowl game. So at this rate we've got a problem unless Harbaugh and crew slow their decal roll.
We'll see how this plays out.
Related:
Follow MVictors on Twitter