Fans & pundits grasp to find historical context at times like these, but no matter what you come up with doesn't really help you explain or understand what's going on. It's head shaking. Michigan is destroying these teams. This game felt over when Michigan went up 14-0 just a few minutes in. It was certainly all but done at 21-0. Teams aren't even getting decent looks at field goals right now.
All this said – State looks better than any of these teams we've crushed. Connor Cook is an outstanding QB. Despite this, at this point it'll be a big let down if Michigan doesn't win.
Sights and Sounds:
Opening Kickoffs – The last Wolverine to take the opening ball to the house was Coach Wheatley against Houston in 1992. Coincidentally the big board showed a few highlights from Tom Harmon's performance at Cal in 1940 – and Old 98 took the first kickoff back in that game as well. Sadly #1000SSS didn't show this highlight, Harmon's TD run where the final "defender" was Harold Brennan, a drunk Cal fan:
More on that epic run & incident here.
TDs in 3 Phases: via #1000SSS, the holy trinity achieved:
• The last time U-M posted touchdowns on offense, defense and special teams was 2003 against Indiana. Steve Breaston scored on a 69-yard punt return, Jeremy LeSueur scored on a 60-yard interception for a touchdown, and Breaston scored another on a 20-yard pass from John Navarre. U-M won the game, 31-17.
Derek Jeter for Nerds. Word is that LeVar Burton has a junior daughter at U-M, and he was on prem Saturday. Below he spent a few minutes in the booth with Brandy and Dierdorf (left). The last officer on the Enterprise to visit Michigan Stadium was Patrick Stewart visit during the 2006 Ball State game: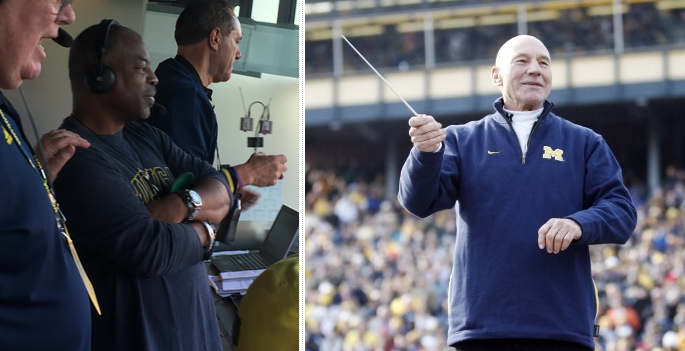 Of course Captain Kirk did play for Bo….namely Kirk Lewis (below left), captain on Schembechler's 1975-1976 squads. That's the downtrodden Ron Burgundy on the right just in case you needed it right now:

Ufer Plaque: This used to sit right outside the press box on the main concourse: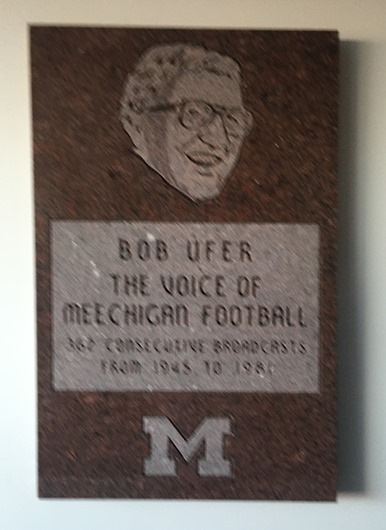 After the renovation it disappeared and I wondered what happened to it. While I was tracking down Geordi LaForge, I spotted on the south wall inside the home radio booth (where Brandy and Dierdorf broadcast).
Uniform Timeline: No updates but I did notice in this shot, the block M thigh pad looks more pronounced and defined, but I'm thinking it's just the angle, or shadows, or someone simply outlined the M with a Sharpie: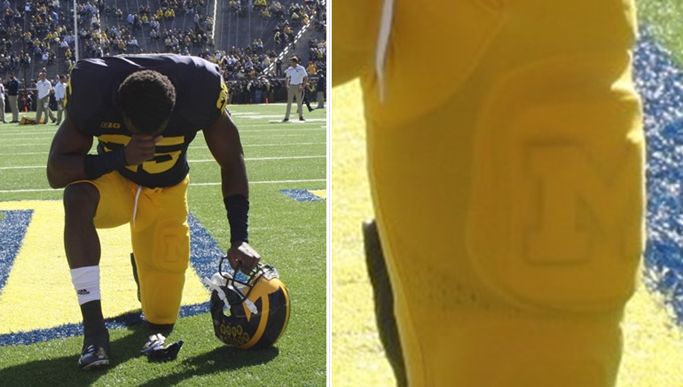 3 Bagels: last time, via the Bentley Historical Library:
If you want 4 straight in the same season you have to go waaayy back, to 1931.
One Downside..of humiliating the Cats, we didn't get to see another Fitz sarcastic spaz dance: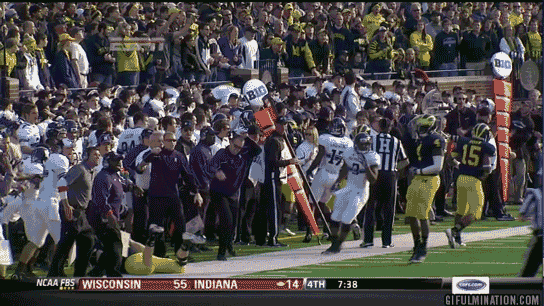 Pantone Deaf. Love these guys but the team colors are moving in the other direction, friends. Get it together in 2016 plz: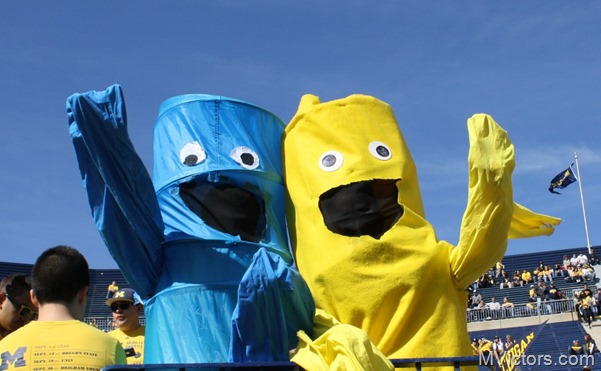 Dealing with Success: More wins = more painted jeans, bare chests, painted skulls and mock super heroes with blanket capes. Stadium and Main will look like Times Square in 3 weeks – mark my words. #harbaugheffect?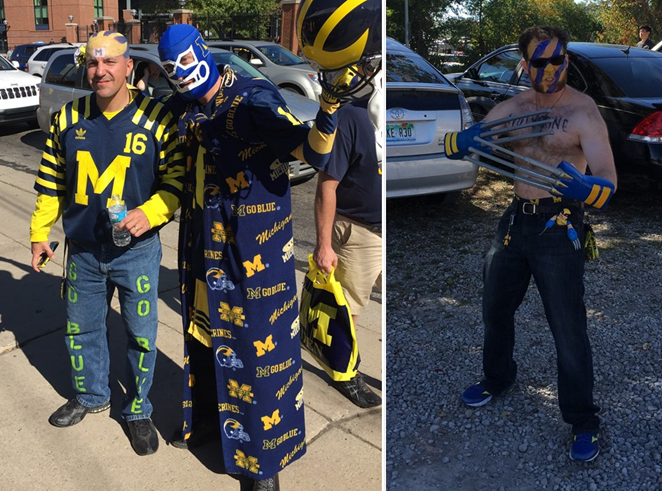 Decal Fiasco: Good god, we have 6 games (+ the results of a 38-0 shutout) yet to award and here's Pep pregame bedazzled in helmet stickers: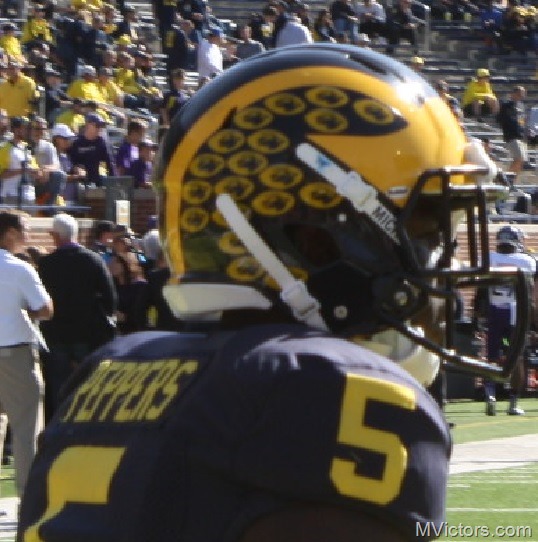 The FIST OF ROMO. The great Sierra Romero flashing her softball title ring pregame:
Mood. BOOM – I guess we find out how good next week. For now: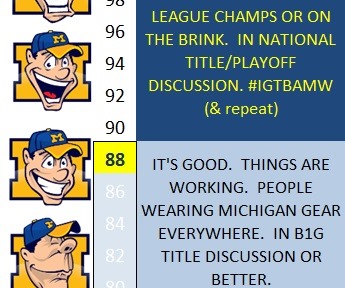 Mudbowl – It went on despite lacking its traditional host, Sigma Alpha Epsilon. Mudbowl is a good thing – glad it went on. (HT: Geoff Voss for this photo)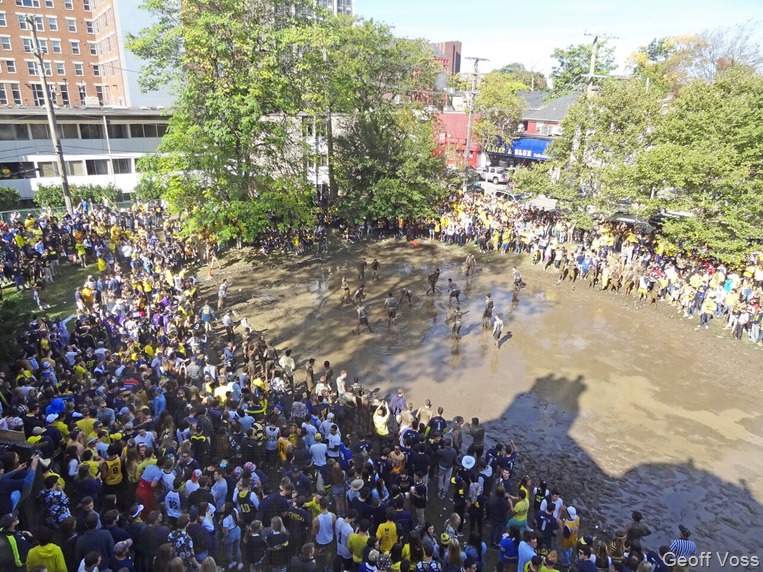 Bless you Harbaugh and Hackett. Your tickets are worth a lot right now.
Elsewhere:
Ace @ mgoblog – "The Wolverines allowed 168 yards; only 38 of those came on the ground against a Northwestern team that relied on its run game and its strong defense to win its first five games. One could easily argue the pass defense was even better than the rush defense. Jim Harbaugh said DJ Durkin called a "near-flawless game," adding "A-plus-plus." It would be much harder to argue that point."
Hoover Street – "From the moment when Jehu Chesson found the seam and engaged the slipstream drive, this one was never in doubt. The profound joy of knowing that 7 points, the way the defense has been playing, might be enough to win the game, is exceptional. Just tremendous. That Michigan went on to run a meticulous series of offensive plays against a very very stout Northwestern defense, go up 21-0 at the end of the first quarter, add a logic and science defying Jourdan Lewis pick six late in the second quarter and then after a great halftime featuring the Alumni Band and, oh yeah, the New York Philharmonic's brass section, (for what it's worth, playing "Ode to Joy" might have been a little on the nose, but, nah, it's all good.), it was time for classic "dull and boring football" in the second half, where all Michigan fans (and the Michigan defense) wanted to see was a preserved shutout. That a mostly full Big House was chanting "defense" with less than a minute to go in a game where Michigan had a 38 point lead, well, it reminded me of the good old days."
Maize and Blue Nation – "I'm not saying Jehu Chesson's opening kickoff return for a touchdown won this game, but it was the winning score. But seriously, John Baxter's impact as special teams coach has been felt on the field just as much as Harbaugh's or Durkin's. O'Neill's punts are pinpoint, coverage has been exceptional, and punt returns have become must-see TV thanks to Jabrill Peppers. Even his fair-catches are fun.
It's just a matter of time until Peppers brings one to the house and Michigan gets a punt block. Both have been close a few time this year."
Follow MVictors on Twitter
Elsewhere:
TWIMFbH: Wrecking Roger, Swindling Sparty, & Wiping Out Woody (1964)