I love dropping by the U-M Bentley Historical Library.  I stopped in recently doing a little research for the 2012 edition of HTTV and check out this gem Brian W., one of the archivists, shared with me: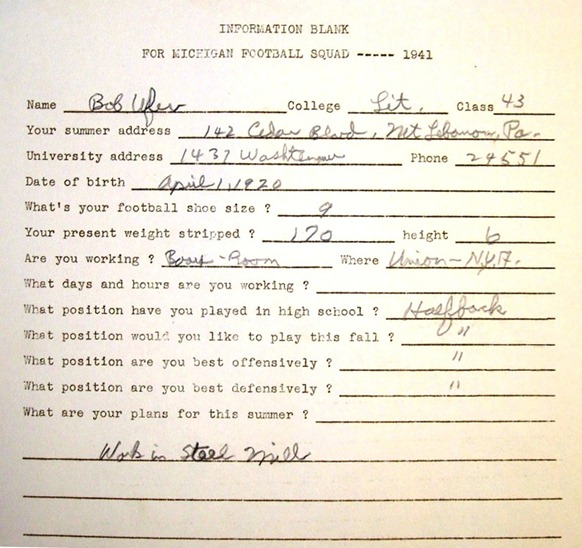 Now we know that the late, great U-M radio voice Bob Ufer played freshman football in Ann Arbor and was a U-M track star at Michigan, but I didn't know he gave varsity football a run.   Apparently so, as above is one of Fritz Crisler's preseason surveys filled out by old Ufe himself.   (Here's Tom Harmon's 1943 form, posted in 2010, worth a look if you haven't seen it).  
He was living at the Phi Delt house at the corner of South University and Washtenaw at the time and as a good Pennsylvania worked in the steel mill during the summer. 
"VOICEM" 
Speaking of Ufer, had to scan eBay for a cool photo and jackpot.   Here he is in 1976 showing off his luxurious sled and his fitting vanity plate: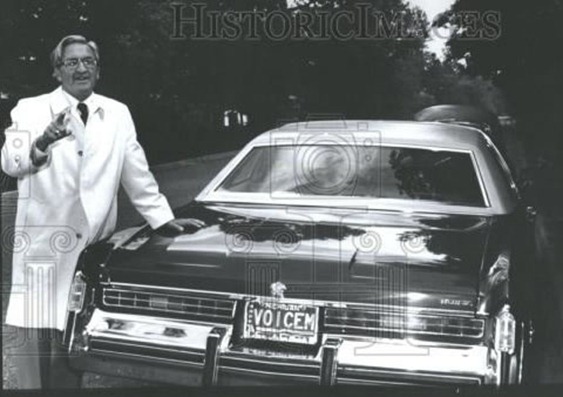 Related:
Bentley bio and sound clips
Ufer.org – official site, clips and more
Ufer posts on MVictors