[Ed.  Originally posted in 2010, a repost for the anniversary of this important day in Meechigan football history.  And if you love Kryk, and I know you do, get STAGG vs. YOST now!]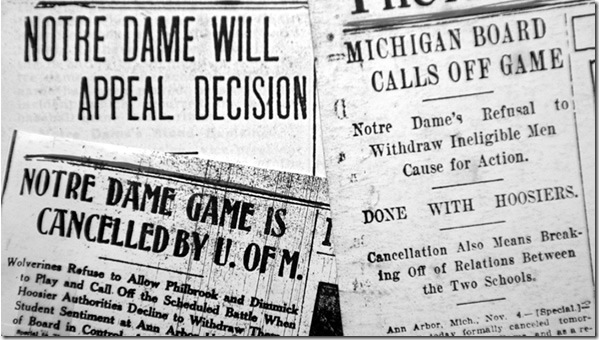 Guest post by JOHN KRYK of Natural Enemies – (Follow John Kryk on Twitter)
On Friday, Nov. 4, 1910, Michigan authorities cancelled the showdown football game scheduled for the next day between the Wolverines and the University of Notre Dame on old Ferry Field, now site of UM's track and field oval.  In a nutshell, the Wolverines contended that at least two Fighting Irish players were ineligible under the rules of the game contract, and when Notre Dame refused to sit them out, Michigan pulled the plug on the contest, and, as it turned out, on the series for the next 32 years.
As I wrote in the two incarnations of my book Natural Enemies, just who was right and who was wrong is difficult to ascertain, because the status of the disputed players rested on the vague and variant eligibility rules of the day. That each side devised interpretations to suit its position, then steadfastly defended that position, should come as no surprise. Nor should the explosions that followed.
Michigan had literally taught the game of football to Notre Dame, in November 1887. For the next 21 years, the teams played off and on, with  Michigan always winning. Small-fry colleges in the Midwest, such as Notre Dame at the time, were always desperate to get a spot on the football schedule of a Midwestern giant such as Michigan, and when they failed it could devastate them. But as I first wrote in Natural Enemies in 1994 (13 years before Mike Hart popularized the analogy):
In Michigan's eyes, Notre Dame was just the pesky kid brother who refuses to understand he can't always hang out with the big boys. And when kid brother goes off whining to the other small fry on the block, well, big brother couldn't care less. But kid brother was determined to prove he belonged. Indeed, for the next two decades, Notre Dame aspired to be everything that mighty Michigan already was in athletics.
In 1909 Notre Dame finally defeated Michigan in its ninth attempt, 11-3 at Ann Arbor. It was the only blight on an otherwise landmark year for Yost and his Wolverines, who knocked off defending national champion Penn in Philadelphia, and Conference champion Minnesota in Minneapolis. The loss rankled Yost and his team, because Michigan was observing the new Conference rules that barred freshmen and limited player eligibility to three years, while Notre Dame was still wantonly playing freshmen and four-year men. More »