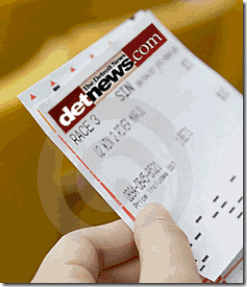 Maureen Dowd of the NY Times is required reading twice a week, no matter how you lean politically.  Ask Lloyd Carr.
In today's piece, Dowd tosses around some ideas about how to save print journalism, including this beauty:
Self-described print press "fanatic" Mortimer Zuckerman, who owns The Daily News and U.S. News & World Report, proposed to Forbes that the federal government could save newspapers by allowing sports betting on newspaper Web sites.
Further:
I tracked down Zuckerman in Jerusalem on Tuesday to ask him about it. "Newspapers are so critical for public dialogue and holding public officials responsible," he told me. "And who's going to be able to afford original reporting in the next five years? Very, very few."

He said some British newspapers make millions on betting games like Bingo. "People are spending money on what is basically a social vice anyhow," he said. "So why not use it to preserve the First Amendment? It's not a perfect solution, but it is a solution."
While I like the idea of being able to conveniently plop down a few bucks on the game, I'm weary of folks turning to gambling to solve all of our problems.  Or taxing soda or sports tickets for that matter.
Robo-Journalism
Maybe this will help.  Also recently published in the Times.  A group of dudes at Northwestern developed an algorithm dubbed Stats Monkey to that will generate, get this, a game summary arguably fit for print.  Check out the article here.   Maybe if editors can use HAL to spit out the sports recaps, perhaps the paper will have more resources for the good stuff.
Per the Times, "the weird thing about Stats Monkey is how not-that-terrible the stories are."  Wild stuff. 
Here's a taste of what the Monkey produced from the October 11 game between the Angels and Red Sox:
BOSTON — Things looked bleak for the Angels when they trailed by two runs in the ninth inning, but Los Angeles recovered thanks to a key single from Vladimir Guerrero to pull out a 7-6 victory over the Boston Red Sox at Fenway Park on Sunday.

Guerrero drove in two Angels runners. He went 2-4 at the plate.

"When it comes down to honoring Nick Adenhart, and what happened in April in Anaheim, yes, it probably was the biggest hit (of my career)," Guerrero said. "Because I'm dedicating that to a former teammate, a guy that passed away."

Guerrero has been good at the plate all season, especially in day games. During day games Guerrero has a .794 OPS. He has hit five home runs and driven in 13 runners in 26 games in day games.

After Chone Figgins walked, Bobby Abreu doubled and Torii Hunter was intentionally walked, the Angels were leading by one when Guerrero came to the plate against Jonathan Papelbon with two outs and the bases loaded in the ninth inning. He singled scoring Abreu from second and Figgins from third, which gave Angels the lead for good.
Not bad once you get past the first sentence.
Right now it looks like it's tuned to baseball, but the geeks note the "technology underlying the Stats Monkey system scopes across any sport or event in which the events produce significant quantitative data." 
More about how the system works here and at the Northwestern Intelligent Information Laboratory website (HT: Jason @ Eleven Warriors)