God bless your cotton pickin' maize and blue fedora-covered ears, old Ufe returns Saturday.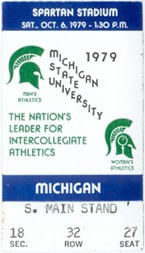 Continuing an awesome tradition, starting at noon Saturday WTKA 1050AM will air another game from the Bob Ufer radio archives, this time the 1979 battle against #16 ranked Michigan State played in East Lansing on October 6.  [According to the stub, the kick-off was at 1:30PM?].
So after weeks of ignoring those important in your life, tune in while you are making good with your spouse, friends, family or putting rake to leaf in the yard. 
1979 held a special significance in Ann Arbor as it was the 100th anniversary of the Michigan football program.  A grand banquet was held in "Chrysler" Arena (oy!) on September 8th of that year.  Willis Ward was a guest speaker and represented the decade of the 1930s.  1979 also featured Ufer delivering the greatest radio call in college football history, just three weeks later. 
You can support the Ufer Foundation here.
More: ..from AnnArbor.com here, including an outstanding pic of Ufe from the MLive archives.
Related:
TWIMFbH: Stanford, '73 and a Salute to the Big Ten
eBay Watch: Bo Rolls into Berlin (Navy 1976)
eBay Watch: Where Ufer Laid Woody Hayes Away
eBay Watch: WPAG Wall Clock (1940s)
WTKA to broadcast Ufer, 1979 Indiana game today
Follow MVictors on Twitter
Stub via ticketmuseum.com